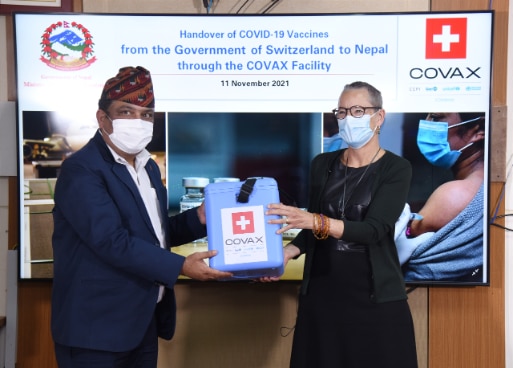 The Government of Switzerland has handed over 144,000 doses of AstraZeneca vaccines to the Secretary of Ministry of Health and Population, Dr. Roshan Pokhrel, at an event at the Ministry today. The vaccine support from Switzerland for Nepal has been done through the COVAX facility.

Her Excellency Elisabeth von Capeller said, "This vaccine support is a reiteration of Switzerland's 62 years of friendship and solidarity towards Nepal. At times like this we discover that we are together and can help each other overcome the crisis. These vaccines will not only help save lives but also support in the socio-economic recovery of the Nepali people." She further said, "The cooperation and coordination of the Government of Nepal and all the international organizations such as WHO, GAVI, CEPI and UNICEF has been commendable to achieve this."

Since April 2020, Switzerland has supported Nepal with PCR testing kits, ventilators, oxygen concentrators, most essential medical supplies, the instalment of safe healthcare waste management and clean drinking water systems in two hospitals of Province 1. Switzerland has also established a scheme engaging local vendors to support farming households to access critical agricultural inputs, such as seeds. It has adapted its existing projects to ensure continuation of services during the COVID-19 pandemic and supported stranded migrants who lost their jobs in the destination countries with shelter, food, medical assistance, legal counselling and assistance for return. Till date, Switzerland has allocated a total of USD 20 million to the COVID-19 response in Nepal.

Switzerland will continue to support the efforts of the Government of Nepal in prevention of COVID-19 and socio-economic recovery of the Nepali people from the pandemic.