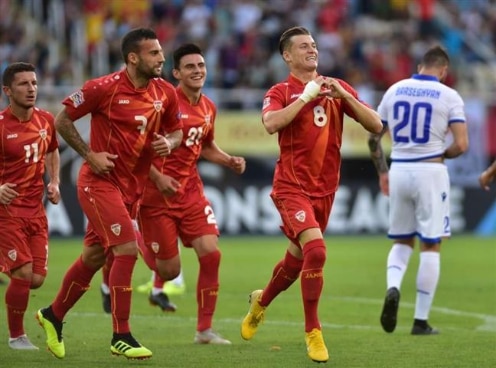 Warmest congratulations for writing history in North Macedonia by qualifying for the first time for the European Football Championship! 

What is the secret that such a diverse group in terms of experience, heritage and languages could become such a strong team?
E.A.: Our coach, Igor Angelovski, has kept the same players together as a team over the past 5-6 years and has given us his trust. This trust has enabled us to grow as a team and to get to know each other over a longer period. By now we all know each other very well, we know every colleague's strengths and weaknesses, so that helps. Even though some of us have slightly different backgrounds – most of us speak either Albanian or Macedonian- on the field it doesn't really matter, because the game makes everybody speak the same language: football.

You are a role model for so many young people, in particular in your two home countries North Macedonia and Switzerland but also in the United Kingdom where you are playing an amazing first season in the Premier League. 

Are there any specific parts of the different cultures you grew up with that forged your personality to help achieve the big breakthrough and become so successful in your career?
E.A.: I think the most important factor for my breakthrough has been my ambition. I've had this dream of playing in the Premier League since my childhood, like many children do. And with every small step I made, I never let that goal out of my mind. The other factor was relentlessness: I had to deal with setbacks and stay on track to achieve my goals through alternative means. My path to the Premier League was full of obstacles and passed through the Swiss 3rd tier League (Promotion League), Challenge League (2nd tier), Swiss Super League, English Championship, and then finally the Premier League. Maintaining a professional attitude is also very important. Football is not only my passion, it's also my job. And like in any other business, I must be punctual, do my work diligently, etc. Every game is a business card that I hand out to other people, it's a presentation. Also, getting the right kind of support in my life has been crucial to my success. My family has always supported me throughout my career. Having a good management team behind me and getting good advice from my agent has also helped me make the right kind of decisions.

Switzerland and North Macedonia are both multilingual countries. Apart from English and Spanish, you speak Macedonian, Albanian and with German, Italian and French also three of the four official languages in Switzerland. 

What do languages and multilinguism mean to you?
E.A.:I'm very interested in languages, because they enable me to communicate with and to understand all kinds of people. For example, Spanish enables me to understand Macelo Bielsa. That's important because the better I understand him, the better I can translate whatever he expects from me to the pitch.

Having both cultures in your heart and spirit: in your view, what could the Swiss learn from North Macedonia and where could people in North Macedonia become more Swiss?

E.A.: It's a difficult question, because I'll have to generalize. Perhaps, people from North Macedonia are more easygoing and good at showing their emotions in competitive sports. It's beautiful to see their passion in competitions. On the other hand, Swiss tend to be very disciplined and take organization very seriously. Both have their qualities and can learn from each other.

What is absent in your fridge in Leeds that you miss most from Switzerland and North Macedonia?

E.A.: From North Macedonia I miss Ajvar and Burek, and from Switzerland it's Ovomaltine and Swiss chocolate.

Thank you very much for your time and best of luck for the European championship! We will cross our fingers! Hopp MK!

Switzerland and North Macedonia not only share close cultural ties due to an important diaspora and stars like Ezgjan Alioski but have a lot in common as multilingual, mountainous and landlocked countries. Switzerland has been supporting the development agenda of North Macedonia since 1992 and just launched a new Swiss Cooperation Programme North Macedonia 2021 – 2024 (PDF, 32 Pages, 3.4 MB, English) to continue our friendship through cooperation and mutual exchange.