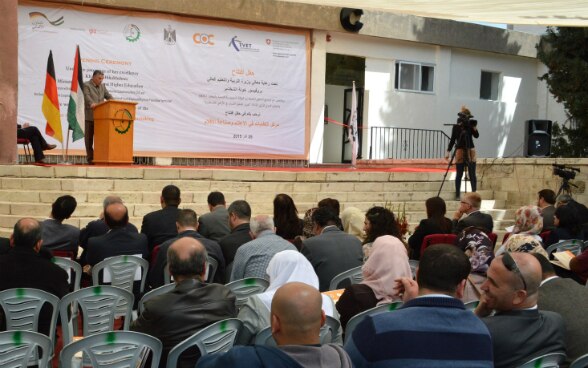 These CoCs opening formed the culmination of the three-year project entitled "Promotion of Youth Employability in Palestinian Territories", co-finance by SDC, BMZ and EU. The project is implemented by the German Development Cooperation (GIZ) in partnership with the Ministry of Labor (MoL), Ministry of Education and Higher Education (MoEHE), Private Sector and the support of the Swiss Agency for Development (SDC).
The official ceremonies started in the Palestine technical college –Ramallah, inaugurating "The Center of Competence for media and film making" on the 25 March 2015, followed by the Jenin Vocational Training Center, as the "Center of Competence in building and Decoration " on 5 May 2015. The third took place on the 23rd of May 2015, at Al-Aroub agriculture school for the "Center of Competence for food processing". The fourth opening was on the 20th of May, 2015 for the "Center of Competence for fashion design and the manufacturing of wearing apparel", at the Palestine technical college –Kadouri in Tulkarem.
Throughout the project the four Centers of Competences were designed on an international level and are upgraded to be able to design and implement new concepts for labor market oriented Vocational Education.  Engaging closely the private sector has been the dynamic for the development of a qualified graduates and workforce. To be able to achieve that, the different CoCs had received high technology equipment, curricula development, highly qualified teachers and trainings on designing a quality assurance system. The centers will function as network of sector institutions and will be the driving force for strengthening the professional qualifications on a national level.
The commitment to recognition of the importance of the networking and partnership approaches were very much present in the different openings, which had high and strong representations form all stakeholders; the two partner ministries, representatives of the private sector, TVET institutions, Chambers of Commerce and industry and Students.
Dr. Khawla Alshakhsheir, Minister of EHE, stressed out the importance of these centers that will open new doors for the Palestinian youth to enter the labor market equipped with high skills, knowledge and chance to be a productive part in the Palestinian community. She later added: "These centers reflect the Ministry vision to develop the technical and vocational education and training in Palestine".
"The inauguration of those centers needs to be seen as a starting point for a change in the market dynamics and not the final goal . We need to pursue our commitment to enable -  in the long term - the management of those centers to capture opportunities and to adapt to market demand", stated Mrs. Veronique Hulmann.
Dr. Andreas Koenig, Head of the TVET and Labour Market Programme (GIZ), highlighted the need to ensure quality in the centers services, products and curricula in order to set up these CoCs as beacon of success and competence for related sectors around the region.