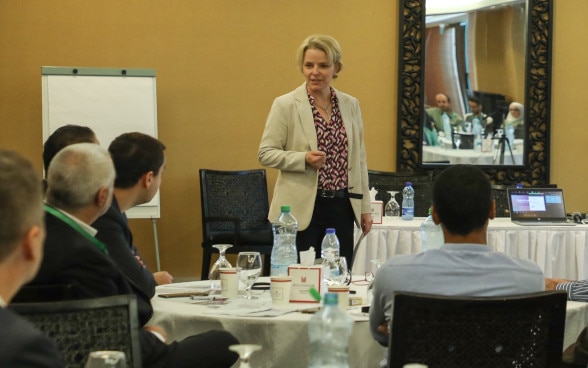 Palestinian businesses are predominantly family-owned, with 98% micro, small, and medium size. While some of these businesses are globally connected, many are operating in traditional sectors producing for the local market. They could benefit from digital transformation as a tool to increase business efficiency, process optimization, marketing, and most importantly profitability.
SDC is supporting this effort by engaging with two reputed Palestinian universities – Birzeit in Ramallah and Al Najah in Nablus – to implement an innovative skill development program in digital transformation, that would equip established entrepreneurs and start up's with digital tools in the realm of Leadership, Data Analytics, Product Management, User Experience, Customer Success, and Digital Marketing. Such skills are paramount for the success of businesses in today's connected world.

The course on Digital Business Transformation has been developed by both universities in partnership with Swiss Federal Institute of Technology Lausanne (EPFL): "We hope that this program represents a start for a long-term partnership between Palestinian and Swiss universities for the benefit of Palestinian graduates, businesses, and the economy at large" said Dr. Abed Al Razzaq Al Natshesh, from Al Najah University.

The extra-curricular course offers six thematic modules of 80 hours each. It is free of charge and is directed at innovative young and established entrepreneurs, students and university graduates. They will be able to join this opportunity through visiting https://digitallabs.ps/. The first two modules to be launched in October 2022 are going to tackle Leadership and Data Analytics, and how to employ these modern-day skills in the journey of a business.

Switzerland's engagement in the field of innovation is framed by its efforts to create and enhance employment opportunities for youth, support the establishment of new businesses and increase the productivity and efficiency of existing ones. The overarching aim is to provide jobs and perspectives for Palestinian youth and contribute to the resilience of the local economy in partnership with Palestinian partner ministries, academia and organizations of the private sector and the civil society.