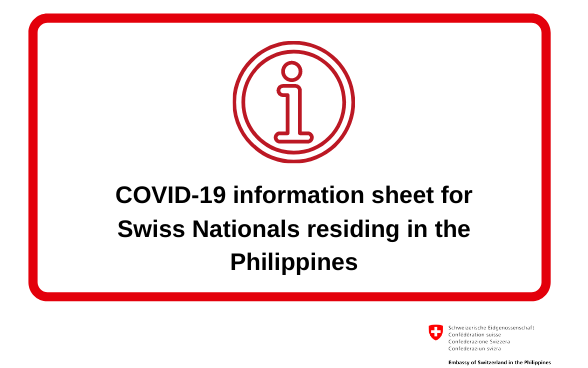 COVID-19 Vaccination
Persons residing abroad must primarily comply with the vaccination requirements of their host country. For logistical reasons, the vaccines that will be administered in Switzerland cannot be dispatched to the external network. The Federal Department of Foreign Affairs (FDFA) therefore has no plans to ship vaccines abroad and has not organized a vaccination campaign for Swiss citizens living abroad.
Swiss nationals abroad insured under the Swiss compulsory health insurance (basic insurance) with a Swiss provider can be vaccinated in Switzerland. Please contact your health insurance provider and/or Swiss family doctor.
Swiss nationals abroad not covered by a Swiss health insurance policy should contact their health insurance provider to find out about the vaccination policy in their host country.
You will find more information about COVID-19 vaccination on the website of the Federal Office of Public Health (FOPH): Coronavirus: Vaccination and Protect Yourself and Others: Vaccination. The Organization of the Swiss Abroad has also posted some information concerning the vaccination strategy of the Confederation, we thus invite you to visit their website as well.
Emergency loans pursuant to Art. 47 of the Swiss Abroad Act may only be granted to Swiss nationals staying abroad temporarily. Therefore no emergency loans may be issued to Swiss citizens domiciled in another country, even for the purpose of funding their vaccination in the country of residence.
For the Philippines, we recommend that you regularly consult the website of the Department of Health.
AHV
If you have any questions regarding AHV, please contact sedmaster@zas.admin.ch directly. Swiss representations abroad do not have access to insured persons' data and therefore cannot provide you with any information or answers on this subject.
Due to the current situation, postal traffic delays and difficulties in reaching authorities, the Swiss Compensation Office in Geneva is temporarily accepting life certificates by e-mail until April 30, 2021. These can be certified by the insured themselves by means of a signature (without official stamp).
Should insured persons wish to extend the validity period because the deadline for submission is imminent, they must notify the Compensation Office directly. Failure to receive the document will automatically result in deferral of payment.
Inquiries and life certificates should also be sent to the following email address: sedmaster@zas.admin.ch. In urgent cases, the Compensation Office can also be reached by phone at +41 58 461 91 11.
Swiss Passport
Place the order for your new passport online at www.schweizerpass.ch (one order per person) and follow the instructions on the website. You will receive an acknowledgment of receipt of your completed online order.
Once your personal information is verified, you will receive an email to make an appointment for the biometric data collection, as well as information on the documents to bring and the fees to pay to the relevant representation.
Despite possible travel inconveniences, it is mandatory to appear in person at this embassy, as biometric data must be newly registered for each Swiss passport order. Current biometric passports are equipped with a chip, on which your fingerprints and photo are stored electronically.
Entry to the Philippines of Third Country Nationals
Entry requirements for third-country nationals into the Philippines change regularly and often on very short notice. We therefore encourage you to consult the Philippine Embassy in Bern and/or the Bureau of Immigration prior to any planned travel.
Entry into Switzerland by third country nationals (Visa)
In order to maintain Switzerland's capacity to cope with the COVID-19 epidemic and to ensure the conditions for an adequate supply of care and medicinal products to the population, the Federal Council has taken several measures since March 2020. One of these is the enactment of Ordinance 3 on Measures to Combat Coronavirus (COVID-19 Ordinance 3), which provides for restrictions on entry, border crossing and the admission of foreigners to Switzerland (Art. 3 and 4 COVID- 19 Ordinance 3). Entry of people from risk countries or regions is restricted (Art. 3 Para. 2 COVID-19 Regulation 3).
All Schengen states, EU and European small states as well as individual third countries are no longer considered risk states since July 2020. For entries from these countries, there are no longer any entry restrictions related to the Coronavirus, but the usual entry requirements apply again.
For all third country nationals, it is still not possible to travel to Switzerland for vacation, for visiting purposes of for other reasons, provided that they are entering from a risk country (e.g. Philippines, Micronesia, Marshall Islands, and Palau). Entry from a risk country for stays of less than 90 days without a permit will continue to only be permitted for cases of special necessity according to the Ordinance 3 Covid-19.
The Philippine authorities have issued rules and regulations regarding the departure of Philippine citizens. May we kindly ask you to consult the relevant resolutions of the Inter-Agency Task Force for the Management of Infectious Diseases (IATF) and the Bureau of Immigration in advance.
Social Aid for Swiss nationals residing abroad
A Swiss national residing abroad is an individual who does not have a residence in Switzerland and is duly registered in the registry for Swiss nationals living abroad.
As soon as you have moved abroad, you are being considered as a Swiss national residing abroad. The definition and the following options for social aid are in accordance with the Law for Swiss nationals abroad (ASG) dated on 26 September 2014 (ASG, SR 195.1).
Principle
Have you fulfilled the above mentioned conditions and you are not in a position to provide for your livelihood using your own funds, contributions from private individuals or assistance from the country of your temporary place of residence? You would then have the possibility to apply for a Financial Aid for Swiss nationals living abroad (SAS) through the competent Swiss representation.
The social aid shall assist you to achieve a simple life with human dignity. Your financial and personal situation will be assessed by the Embassy according to a specific budget. The calculation criteria for an assistance are in accordance with the Swiss Social Aid which have been adjusted to the circumstances in your host country.
Options for Social Aid
Monthly Social Aid
Hospital expenses (regular ward, public hospital)
Medical expenses
AHV/IV – annual contributions
Bridging Allowance
Stay in Institutions (e.g. Home for the Elderly)
You shall not assume that you would indeed receive social aid while being abroad. The SAS may also decide that in lieu of an assistance abroad, only a repatriation to Switzerland may be considered (e.g. short stay in the host country or minimal chances of securing a regular income).
Multiple/Dual Citizenship
Should you possess another nationality, extraordinary rules would apply. You may file an application but in general you would not receive any assistance if your foreign nationality is preceding. Assessment criteria would depend on your relationship to Switzerland and the circumstances which led to the acquisition of the foreign nationality.
Reimbursement
Social aid must either be reimbursed as a whole or at least partially if this may be reasonable and an appropriate livelihood can be ensured.
The link Sozialhilfe may provide you with additional information in this regard.
Swiss Benevolent Foundation (SBFI)
The foundation can support projects which are categorized in 3 main programs:
Unique and restricted financial emergency assistance
Immediate Care for a terminally ill individual where another form of assistance may be prolonged for an uncertain period or is not available;
Just funeral for a destitute and abandoned Person;
Christmas donations to destitute, abandoned  as well as imprisoned individuals
Loan (must be returned to the foundation in a unique manner and without any interest rates)
Sudden loss of livelihood due to acts of God, national calamities and/or illnesses;
Severe Illness or Accident without any recourse to other possibilities
Educational Assistance (provided that financial means are available)
For Orphans of Swiss nationals (mainly for Tuition fee and living expenses). The main goal ist to provide these children with a dignified education which would lead to livelihood whether in the Philippines or in Switzerland.
It is being expected that those who avail of the educational aid fulfill the following criteria: Maintaining of average grades; semestral transcript which would need to be submitted to the foundation; fixed monthly contribution for a maintenance allowance.
The educational aid may be extended depending on the merit of the case.
Qualified Beneficiaries
Swiss nationals residing in the Philippines, whether single or collectively member(s) of the Swiss Club Philippines Inc. and the SBFI in the past or present as well as their family members (Children and spouses/partners).
It would depend on the assessment of the foundation council if any assistance may be extended to Swiss nationals who do not fall within the above mentioned categories.
The website of the SBFI provides further information in this regard 
For more details, please view the below documents.
COVID-19 information sheet for Swiss Nationals residing in the Philippines (PDF, 9 Pagine, 634.4 kB)
Updated 22 January 2021