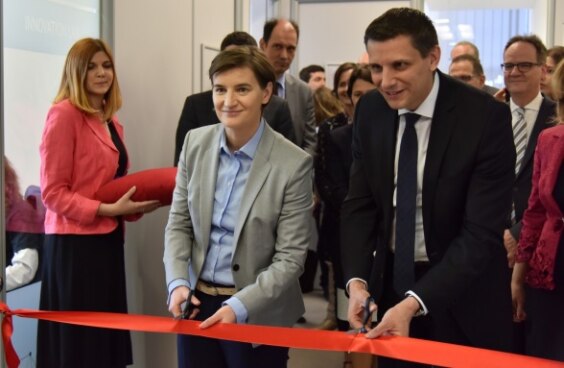 On that occasion, Germann and Brnabić opened new innovation laboratory in the Science and Technology Park in Belgrade. The park was established through the funds of the Swiss Cooperation Strategy with Serbia 2013-2017.  In his media statement, Germann noted that innovations are the most important model for economic development. Switzerland, which has supported the Science and Technology Park with 1.2 million Swiss Francs so far, will continue to support Serbia in the development of the IT sector, Germann said, having in mind that IT sector  is becoming the most developed sector with a growth of 21% in 2017. 
He also emphasized the significance of the Science and Technology Park in Belgrade as an opportunity for the improvement of Serbia's international image. As Germann stated, he is going to return to Switzerland with a positive impression. He expressed his satisfaction with the fact that there are numerous companies from the Park involved in innovation that employ young engineers. Initiatives like this represent opportunities for employment of young, educated people and therefore prevent brain drain from Serbia, while some who left the country also return.
"I'm glad to hear that people are coming back to Serbia, not just from Switzerland. Diaspora is smart and they know why they are returning", the Director emphasized in his media statement. 
On that occasion, the Serbian Prime Minister announced 65 million Euros of investment in IT infrastructure in the following three years.