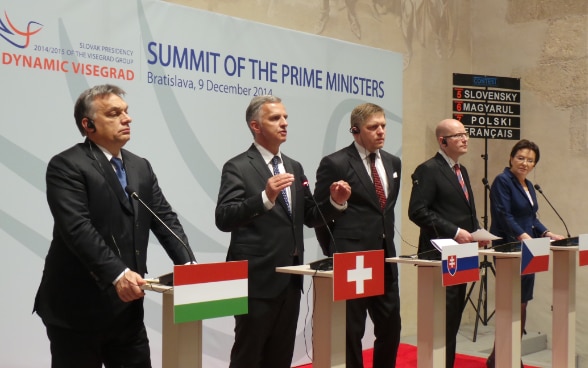 Slovakia has invited Mr Burkhalter to attend this year's summit of the Visegrad Group on the afternoon of 9 December 2014, at which the four countries are represented by their prime ministers. Joining the Slovakian prime minister, Robert Fico, in Bratislava are prime ministers Ewa Kopacz (Poland), Bohuslav Sobotka (Czech Republic) and Viktor Orbán (Hungary). The Visegrad Group was founded by Central European countries Hungary, Czech Republic, Poland and Slovakia in 1991 to provide an informal platform to tackle issues facing Central and Eastern Europe and to boost regional cooperation. Slovakia currently holds the presidency in the Visegrad Group. Switzerland is a member of the International Visegrad Fund through which it funds various projects in Eastern Europe.
The Ukrainian conflict, energy security, research and innovation, economic cooperation and Switzerland's policy regarding the EU are central topics at this year's Visegrad summit in Bratislava.

The political discussions between Mr Burkhalter and the Slovakian government leaders on Tuesday morning will also focus on the situation in Ukraine and the steps taken by the Federal Council to implement the new Swiss Federal Constitution article on immigration. On Tuesday morning, the head of the Federal Department of Foreign Affairs is to meet with Slovakian President Andrej Kiska before moving on to meetings with Prime Minister Robert Fico and Foreign Minister Miroslav Lajčák.
Mr Burkhalter and Mr Kiska will also open the Switzerland-Slovakia Innovation Forum, which under the motto "growth through innovation" seeks to facilitate the exchange of knowledge and information and the development of innovative approaches and solutions among stakeholders from both countries, in particular regarding the challenges created by demographic trends.
---
Further information:
Visegrad Group
Bilateral relations Switzerland–Slovakia

---
Address for enquiries:
Information FDFA
Bundeshaus West
CH-3003 Bern
Tel.: +41 58 462 31 53
Fax: +41 58 464 90 47
E-Mail: info@eda.admin.ch
---
Publisher: