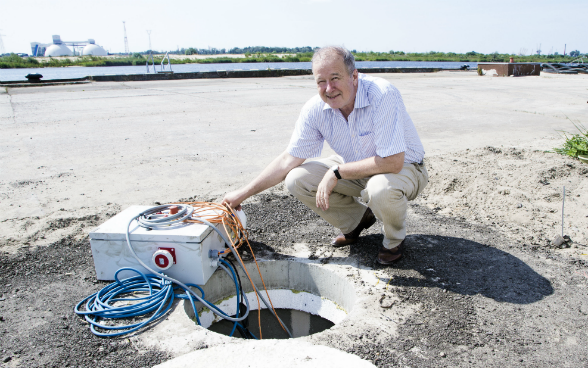 The enlargement of the EU in 2004 was a dream come true for many people whose countries became part of the European Union. As a sign of solidarity and recognition of the EU enlargement as an important step towards more prosperity and democracy in Europe, Switzerland contributed CHF 1 billion to support projects in these countries. In their 2017 annual report, SECO and the SDC take stock of the enlargement contribution's impact. 
A number of impressive results 
The following examples demonstrate how the 210 projects that were funded by Switzerland visibly reduced economic and social disparities.
In the environmental sector, the investments in energy efficiency and renewable energies that were made are now reducing CO2 emissions into the atmosphere by about 100,000 tonnes per year; public transport has become a more attractive alternative, and 130,000 tonnes of asbestos were safely disposed of.

Under the projects aimed at promoting economic growth, over 5,000 jobs were created.

Switzerland made an important contribution to the ongoing reforms in the social sector. The introduction of new therapies, for example, improved living conditions for people in need of support in 93 care homes.

To protect public safety, mobile teams at the external Schengen border received 105 special vehicles and invested in further training.

Switzerland also supported around 800 NGOs as part of its efforts to empower civil society.  
Swiss expertise incorporated 
Switzerland not only contributed to the successes achieved with its expertise but can also benefit from the newly-created partnerships. Swiss companies, organisations and universities received around 10% of the funds that were granted in return for their services in the partner countries. Here are a few examples: 
88 bilateral research partnerships facilitated the registration of 28 new patents.

27 maternity wards in Lithuania were modernised. The infant mortality rate in the country has fallen by approximately 80% since 1992. Several Swiss companies supplied medicine worth up to CHF 2.3 million.

A 1,700 tonne oil slick was pumped out from a Latvian port area reducing groundwater pollution there by 60-70%. The technology for monitoring the clean-up came from Switzerland and Swiss environmental waste experts contributed to the success of the project.

The projects to strengthen environmental monitoring facilitated exchanges with Swiss specialists, and a Swiss company was awarded a contract to supply the hardware and software for real-time surveying using GPS.

Working together with the Swiss Federal Institute for Vocational Education and Training (VET), the Slovakian State Vocational Education Institute is now better aligned with market needs. Inspired by the Swiss VET model, the Slovakian parliament passed a new act on vocational education and training.

200 partnership projects in Czechia, Hungary, Poland, Slovakia and Slovenia facilitated exchanges with Swiss communes, towns, foundations and associations.

The risk of flooding in north-eastern Hungary has been greatly reduced thanks to adapted contingency plans, easily transportable emergency dams and the stabilisation of protective walls. ETH Zurich and a Swiss company were closely involved in the implementation of this project. 
These partnerships will also help maintain Switzerland's links with its EU partner countries in future. Thanks to its enlargement contribution, Switzerland is seen by the EU as a reliable and supportive partner that makes a constructive contribution to addressing cross-border challenges in Europe.