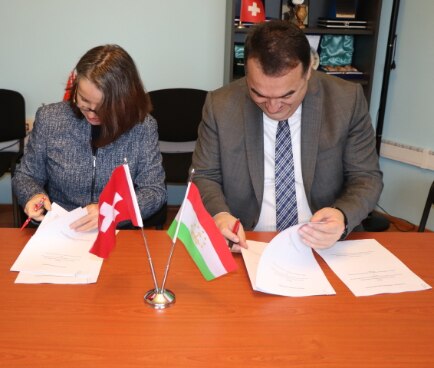 These funds form the financial basis of the Pamir Private Power Project Phase III (PPPP III), a project that builds on previous work to address energy challenges in the Pamir mountains region by the Swiss and Tajik Governments in cooperation with the Aga Khan Development Network through its subsidiary Pamir Energy Company.
Through the collaboration and partnership between the Government of the Republic of Tajikistan and the Government of Switzerland, PPPP III aims to invest in the long-term sustainability and resilience of Pamir Energy's infrastructure and operations as it aims to provide reliable, clean, and affordable energy to the communities of VMKB.
PPPP III will help reduce the risk of adverse impacts of climate change and natural disasters on Pamir Energy's infrastructure, improve energy efficiency of its operations and its capacity to manage peak demands with the aim of improving the overall performance and quality of Pamir Energy's service, and with it, the conditions for living and economic development in this mountainous province.
Quote by SECO "The Pamir region is increasingly facing challenges related to climate change," remarked Walburga Roos, Head of Swiss Cooperation Office, Tajikistan. "This project continues the partnership with Pamir Energy with the aim to increase the company's capacity to operate its assets efficient and resilient. This will contribute to a reliable and affordable provision of electricity, a basic requirement for sustainable economic development."
"Given the physical and climate challenges of VMKB, our partnership with SECO is vital for the sustainability of basic infrastructure in the region," remarked Daler Jumaev, General Director of Pamir Energy. "SECO has been with Pamir Energy since its inception, and we are incredibly grateful for their support as well as that of the Government of Tajikistan."
One of the key components of the PPPP III will be to support the efficient and resilient evacuation of electricity from the planned Sebzor 11 MW hydropower plant through the planned 110kV line into the main grid of VMKB, towards which the EU recently committed 20 million euros. The EU joins a consortium of donors collaborating towards the improved provision of clean energy that includes Germany's BMZ, USAID, and the World Bank as well. The project ensures that standards for infrastructure continue to be set high, serving as an example for the rest of the region.
Source of the information: Pamir Energy