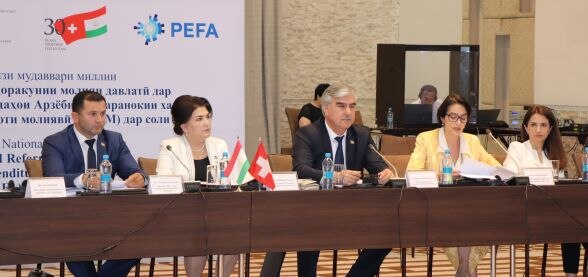 More than 60 representatives from a wide range of economic institutions and donor agencies attended the national roundtable.
The latest 2022 PEFA assessment is an internationally recognized tool that helps countries to benchmark itself against standards and best international practice. It covers a wide range of areas from budget planning, fiscal forecasting and debt management to revenue administration, accounting standards, and treasury modernization. In essence, PEFA enables to identify gaps and improvements, which in turn helps to better calibrate reforms of the PFM system.
Undertaking the PEFA assessment was initially requested by the Ministry of Finance. The assessment is used as a diagnostic tool to understand the current Public Finance Management environment and inform reforms in this area in the coming years. This has been Tajikistan's fourth PEFA assessment since 2007, and was funded by the Swiss Secretariat for Economic Affairs (SECO)
"Nowadays transparency on public finances has become an important feature, not only to foster adequate budget management, but also to improve the country's international reputation and strengthen foreign investors' confidence", emphasized Salome Steib, Director of the Swiss Cooperation Office in Tajikistan. 
According to the assessment, PFM performance registered an overall improvement compared to the last assessment from 2017. Most notable improvements were made by the Government of Tajikistan in areas such as: fiscal strategy, medium-term budgeting, forecasting, revenue administration, public access to fiscal information, procurement, audit, accounting, and others. At the same time, challenges remain in other areas, such as fiscal risk management, intergovernmental transfers, performance-based budgeting, and treasury processes.
The Minister of Finance of the Republic of Tajikistan Fayziddin Kakhhorzoda noted that given the importance of the issue of improving the efficiency of public financial management, the President of the Republic of Tajikistan approved the Strategy for managing public finances of the Republic of Tajikistan for the period up to 2030 and a three-year action plan for 2021-2023. Along with this, the implementation of national priorities and reforms in the field of PFM is guided by the National Development Strategy of the Republic of Tajikistan for the period up to 2030 and the five-year development program, which sets the pace for the entire spectrum of reforms and development of our country. In the long term, public financial management reforms will create favorable conditions in the Republic of Tajikistan for effective public financial management, which is a basic condition for sustainable economic growth, modernization of the economy and social sphere, and achievement of other strategic goals of the country's socio-economic development.
Management of public finances is at the heart of the efforts undertaken by the Government of Tajikistan to improve efficiency and effectiveness of public administration, resource utilization, and transparency and accountability in the public sector. Over the years, the government has invested heavily towards building capacities, systems and processes in order to create an environment that is supportive of the ambitious economic development reform agenda.