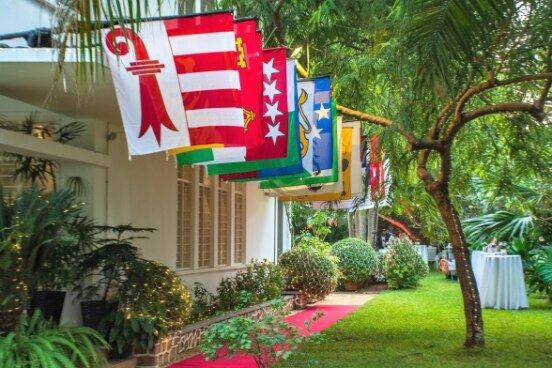 The Embassy of Switzerland marked the National Day, which commemorates the founding of the Swiss Confederation in 1291, at the Swiss Residence in Dar es Salaam. After the Tanzanian and Swiss national anthems, Ambassador Tinguely Mattli welcomed guests and expressed her appreciation to everyone for joining in celebrating this special occasion. 
A local dance group, ASEDEVA, performed to the preambles of the Swiss and Tanzanian constitutions, and the preamble of the UN Universal Declaration of Human Rights to mark the 70th anniversary of the Universal Declaration of Human Rights this year. 
The Deputy Minister for Foreign Affairs and East African Cooperation Dr. Susan Kolimba on behalf of the Tanzanian government congratulated the Ambassador and the Swiss people on the national holiday, and noted the various development initiatives Switzerland is supporting in Tanzania. And as customary, guests got the opportunity to watch this year's message to Swiss citizens from the President of Switzerland, H.E. Alain Berset. 
The reception was attended by more than 300 Swiss citizens, the heads of diplomatic missions, representatives of organisations and businesses, as well as Tanzanian friends of Switzerland. As per tradition, guests were treated to Swiss raclette and wine. The Mapanya Band, a local music group from Zanzibar, kept the event lively and guests entertained.