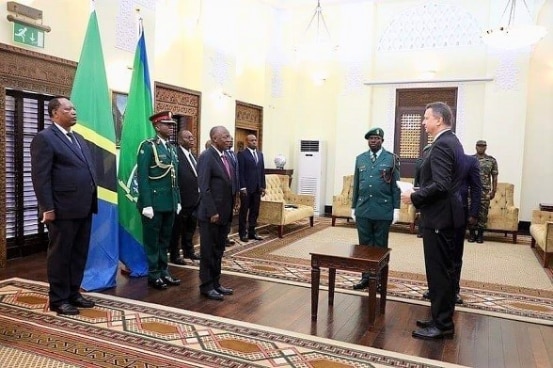 The ceremony included a bilateral meeting with the President where matters of mutual interest were discussed. Ambassador Chassot conveyed greetings and best wishes of the Swiss Federal Council and expressed Switzerland's commitment to further strengthen existing friendly relations between the two countries. He added that Switzerland is soon to launch its new cooperation programme for Tanzania which will prioritize improving the health and livelihoods of youth, and good governance. In response, President Magufuli welcomed the new ambassador and assured Switzerland of continued cooperation.
Prior to his arrival in Tanzania, Ambassador Chassot was Ambassador to the Bolivarian Republic of Venezuela, Barbados, the Cooperative Republic of Guyana, St. Lucia, St. Vincent and the Grenadines, the Republic of Suriname and the Republic of Trinidad and Tobago, with residence in Caracas, Venezuela.
The Ambassador was accompanied to State House by the Head of Cooperation and Deputy Head of Mission at the Embassy of Switzerland in Dar es Salaam, Mr. Leo Näscher.