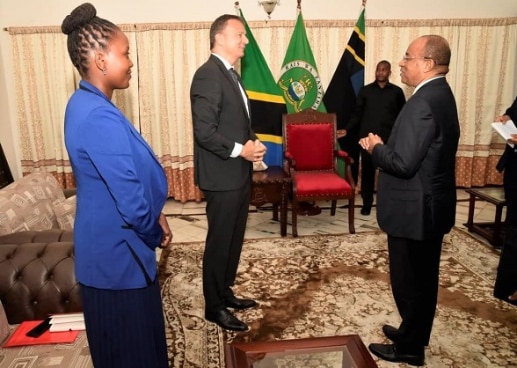 Switzerland and Tanzania have enjoyed 55 years of diplomatic relations, with Tanzania being a priority country for Swiss development assistance for the past 40 years. Ambassador Chassot expanded on the countries' bilateral relations in various sectors of development, emphasizing the focus on continuing to improve health systems, fighting corruption, supporting peacekeeping efforts, empowering youth, and supporting Swiss businesses.
The President praised Switzerland's continued support in the COVID-19 response, malaria elimination efforts as well as willingness to initiate support for an affordable single health insurance system that aims to leave no one behind. Furthermore, he acknowledged Switzerland's international role in peacekeeping missions as well as on-the-ground support to strengthen corruption fighting state institutions like the Zanzibar Anti-Corruption and Economic Crimes Authority (ZAECA).
The two also discussed the role of youth and innovation in accelerating economic growth and priority areas to empower youth to reach their potential, including Switzerland's catalytic innovation fund for startups and SMEs. The President promised that the government will continue to support Switzerland and also welcome Swiss business persons with mutual interests.