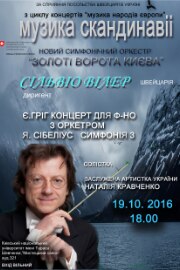 the Swiss Conductor Silvio WYLER with the New Symphonic Orchestra 'Golden Gate of Kyiv' and Soloist Nataliya KRAVCHENKO (piano) perform the concert of 'SCANDINAVIAN MUSIC' in Kyiv.
Silvio Wyler has done a lot for the cultural relations between Switzerland and Ukraine. Silvio Wyler is a conductor of international format with a splendid career who brought him to cooperate with a number of orchestras in Eastern Europe.
But he is also a firm value in cultural life in Kiev.
In Ukraine, Mr. Wyler performed with symphonic show orchestra, National Radio orchestra, Opera orchestra. 2010 he conducted 2 operas in Dnipropetrovsk.
2012 Mr. Wyler created the new orchestra "Golden Gate of Kyiv". This orchestra combines great musicians from different orchestras: State Orchestra, Radio Orchestra, Symphonic Show Orchestra, Opera Orchestra.
Since 2012, with this orchestra maestro Wyler played already 6 concerts, 5 of which were hosted by National Taras Shevchenko University.
It has been a long-standing plan by Silvio Wyler to acquaint the audience with music probably less-known to the Ukrainian public. This time music by Scandinavian composers (Edvard Grieg – Concerto for Piano and Orchestra and Jean Sibelius – Symphony No. 3) will be performed.
Entry is free.