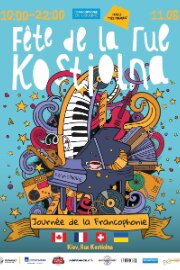 On 11 June from 10 AM to 10 PM one of the most French streets in Kyiv, Kostiolna street, invites you to attend the annual fair «Francophonie Day». The fair aims to celebrate and discover the diverse culture of the francophone countries Canada, France and Switzerland, and to give the talented people of Ukraine the opportunity to present themselves and their art.
The rich programme on Kostiolna street features, amongst others, theatrical and dance performances, cooking classes, culinary lectures and tastings, children's programme, art expositions, live music, stands with a variety of hand-made products. Swiss highlights include a theatre performance based on three children stories by Swiss author Franz Hohler and a modern dance performance based on the choreography of the prominent choreographer Maurice Béjart, as well as a reading of a Francophone Swiss fairy tale. The Swiss programme further includes workshops on the use of organic cosmetics and the preparation of the Swiss traditional dish "Raclette". At their stand, the Embassy of Switzerland and the Swiss Cooperation Office will inform visitors about Switzerland and Swiss development projects in Ukraine.
The fair is a charity event and this time aims at helping the Children Department of National Cancer Institute. It is also an educational event (in cooperation with French Institute in Ukraine). The event will be held with the support of the Embassies of Canada, France and Switzerland, as well as the French Institute in Ukraine and Ministry of Foreign Affairs of Ukraine.
General information on the Francophonie Day's programme can be found here: Facebook
Information on the Swiss programme can be found here: Facebook