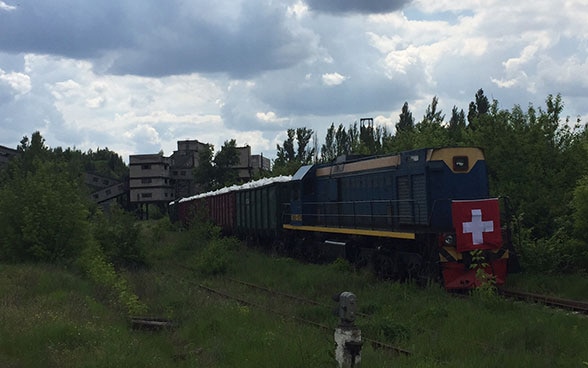 Besides various chemicals for drinking water purification transported by railway and road, Switzerland supported the water utility Vodadonbasa with 38 devices for chlorine production. All this will help the company ensuring regular water supply for the Ukrainian population of the entire Donetsk region.
Furthermore, Switzerland provided the general hospital in government-controlled Kurakhove with much needed medical equipment to sustain basic healthcare in an area confronted with a high number of patients due to the influx of additional patients from the neighboring conflict zone. At the same time, Switzerland supported four hospitals in Donetsk with life-saving drugs, reagents and spare parts for medical devices.    
The delivery of humanitarian goods was organized with the active support of the Ukrainian authorities in Kyiv and interlocutors in non-government controlled area of the Donetsk oblast. The Ministry of Temporary Occupied Territories and Internally Displaced Persons proved instrumental in finding a solution among all concerned Ukrainian actors to get the Swiss humanitarian train rolling. Precious logistical assistance for the preparation of the shipment was provided by the UN Office for the Coordination of Humanitarian Affairs and other international partner organizations. The transport was organized and accompanied by an expert team of the Swiss Humanitarian Aid, supported by the Embassy of Switzerland and the Swiss Cooperation Office in Kyiv.
Between April and October 2015, Switzerland had already carried out three similar aid transports to Eastern Ukraine, providing public institutions in government and non-government controlled areas with more than 1'200 tons of aid supplies. Approximately 3.7 million people on both sides of the line of contact were supplied with safe drinking water for more than nine months, and several thousand patients suffering from cancer or kidney failure received the necessary treatment.
Switzerland urges all sides to grant humanitarian organizations access to the conflict-affected population, in accordance with international humanitarian law. Permanent availability and access to basic services has to be granted, and freedom of movement for civilians within the conflict zone should be improved. Switzerland calls on all sides to contribute to a peaceful and lasting resolution of the conflict and an economic and social recovery of the conflict-affected areas of Ukraine.