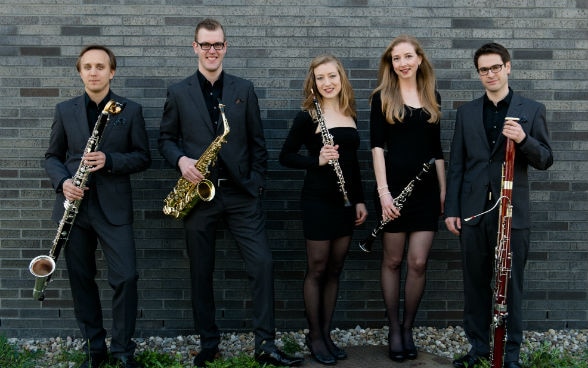 NEXUS Reed Quintet, an innovative woodwind ensemble from Switzerland, makes its UK debut for the Swiss Ambassador's Award Concert: an annual showcase of talented musicians with a classical and contemporary repertoire.
The quintet brings together five reed instruments: oboe, bassoon, saxophone, clarinet and bass clarinet. Its unique programming, fresh and in-depth interpretation, precise interaction and youthful enthusiasm fascinate audiences and open up new dimensions in chamber music. 
An exclusive programme has been put together with special arrangements of Elgar's 'Enigma Variations', Rameau's 'La Triomphante' and the UK première of 'Night Snow with Wolves' by Swiss composer Stefan Wirth (b. 1975).
Dates, venues and tickets: 
18 October 2016 Wigmore Hall, London
19 October 2016 The Balmoral, Edinburgh
20 October 2016 The Duncairn Centre for Culture & Arts, Belfast
21 October 2016 Neuadd Dora Stoutzker Hall, Cardiff
Concert flyers: 
London (PDF, 2 Pages, 354.4 kB) 
Edinburgh (PDF, 2 Pages, 279.6 kB) 
Belfast (PDF, 2 Pages, 282.7 kB) 
Cardiff (PDF, 2 Pages, 357.4 kB)