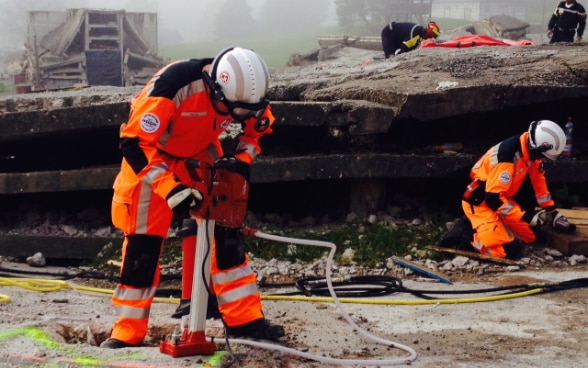 Altogether some 170 specialists from Swiss Humanitarian Aid, the Swiss Humanitarian Aid Unit, the Federal Department of Defence, Civil Protection and Sport (DDPS) and the Swiss Disaster Dog Association (REDOG) were involved. The exercise was based on a severe earthquake measuring 6.9 on the Richter scale in a fictitious country called "Léma-Jura", with around 4,700 dead and 17,400 injured. In the military training village facilities near Epeisses, the rescue team's task was to locate and rescue victims, providing initial emergency medical care.
The team worked round the clock for several days, their performance being assessed by eight international INSARAG specialists. All components and phases involved in a Swiss Rescue operation were tested, from the first alarm right up to the moment demobilisation took place on 31 October. With this diploma, Swiss Rescue remains an INSARAG-approved "heavy search and rescue team" for another five years. This means it is capable of providing search and rescue operations and initial emergency medical care in two crisis situations simultaneously for a period of ten days. INSARAG qualification also requires active coordination with local authorities and other rescue teams (in this exercise the Moroccan team).
At the same time as Swiss Rescue requalified, the new Moroccan search and rescue team also qualified as a "heavy search and rescue team" in Epeisses. The Moroccan team had been trained over the past few years by Swiss Humanitarian Aid in partnership with the DDPS and REDOG.
---
Further information:
---
Address for enquiries:
Information FDFA
Bundeshaus West
CH-3003 Bern
Tel.: +41 58 462 31 53
Fax: +41 58 464 90 47
E-Mail: info@eda.admin.ch
---
Publisher: