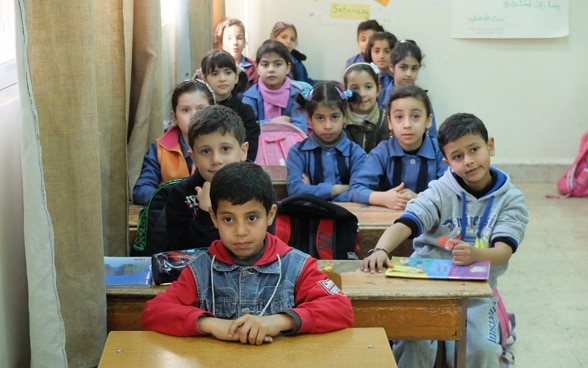 The figures speak for themselves: An estimated 258 million migrants worldwide have left their native countries to seek a better life elsewhere – whether due to poverty, disasters or for other reasons. Around 69 million people have been displaced due to war and violence. 36 million of them are children and young people of school age. 85% of refugees find protection in developing countries. These people have to do without many things when in transit and in their host countries – often including education. Due to the odyssey, which often lasts for years, millions of children and young people are at risk of becoming a 'lost generation', trapped in hardship and poverty without any prospect of a brighter future.
This and other challenges related to correlations between migration, displacement and education are highlighted by the UNESCO Global Education Monitoring Report 2019 which will be unveiled on 21 February in Bern (see info box below). The report focuses on issues ranging from internal migration to the phenomena of international refugees and migrants, and from people leaving their native countries voluntarily to forced displacement. It reveals the enormous potential that is pointlessly wasted when the education of refugees and migrants is neglected. This not only has a negative impact on their personal future prospects, but is also detrimental to their countries of origin and host states. The report's authors have set out clear recommendations based on their findings. Refugees and migrants should be integrated into the national education systems and their educational requirements met by adequate provision.
The SDC aims to avoid 'lost generations'
Swiss development cooperation has long prioritised these issues. «We aim to prevent generations from being lost,» says Sabina Handschin, an expert on education at the Swiss Agency for Development and Cooperation (SDC). The SDC is therefore committed to ensuring that children obtain a school education despite being refugees and that migrants receive training. The SDC's understanding of education covers vocational training as well as mandatory schooling. An SDC project enabled 2,400 Syrian children and young people in a refugee camp in Jordan, for example, to catch up on school years missed due to war and displacement and to obtain school-leaving qualifications. Over 17,000 children displaced by the terror of Boko Haram squeeze up next to local children of the same age at desks in the classroom in Niger thanks to the SDC. 170,000 people in Nepal have completed courses with support from the SDC to prepare them for seasonal work in the Gulf states. Higher incomes allow them to provide for their families at home better.
Sabina Handschin firmly believes that such activities are in the interests of all parties concerned. «By investing in the education of refugees and migrants, we are not only supporting the right to education, but we're also developing the potential that these people offer,» she remarked. «Education provides prospects. It enables equal opportunities and active participation in social and economic life. It also provides them with the tools they need if they later return to their native countries.» However, Handschin says the support of the international community is needed, as many developing countries do not possess the resources required to cope with the huge challenges presented by poverty, conflict, displacement and migration without international solidarity.