Editorial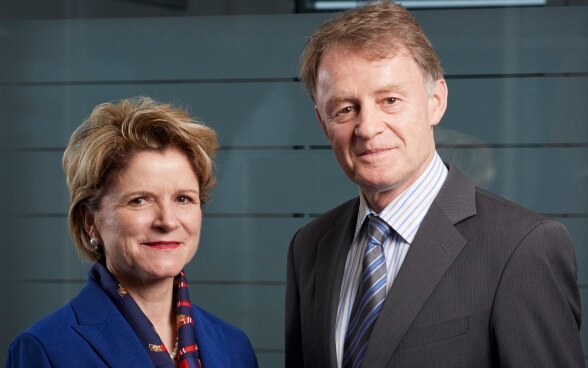 In 2017, Switzerland achieved significant results in the implementation of the Dispatch on Switzerland's International Cooperation 2017–2020.
Fighting poverty and inequality, especially among young people and women, remained a high priority. Switzerland stepped up its activities in education and vocational skills development, for example in Central Africa. In the Democratic Republic of the Congo, 20,000 children caught up in conflicts were able to complete their schooling and begin to come to terms with their traumatic experiences. Young men and women in rural areas of Burundi, Rwanda and the Democratic Republic of the Congo were able to find jobs or improve their incomes thanks to vocational skills training geared to their local labour markets.
2017 was the International Year of Sustainable Tourism for Development. Tourism also plays an important part in efforts to combat poverty. A Swiss project in Indonesia brought private businesses, government authorities and village communities to the table to find ways to promote sustainable tourism in poorer areas of the country. Visitor numbers to the island of Flores rose and the traditional village of Waturaka was named 'best naturally preserved customary village in Indonesia'.
Switzerland continued in 2017 to strengthen efforts to address global challenges such as food security. Following a drought in July, 203,000 smallholder farmers in the south Indian state of Tamil Nadu received compensation from the national crop insurance programme. The crop failures were quickly and accurately assessed thanks to satellite technology developed in Switzerland. The timely insurance pay-outs received by the farmers helped them to cope with the failure of their rice crops.
At a conference to celebrate 25 years of Swiss membership of the World Bank, World Bank President Jim Yong Kim and Federal Councillor Johann Schneider-Amman acknowledged the importance of multilateral partnerships in overcoming global challenges and discussed opportunities for the World Bank to use its critical mass to boost efforts to achieve the 17 Sustainable Development Goals of the 2030 Agenda.
In 2017, the first year the Dispatch was implemented, official development assistance (ODA) as a percentage of Switzerland's gross national income (GNI) fell to 0.46% from 0.53% in 2016. This fall in ODA was a consequence of significantly reduced asylum costs and the savings measures adopted by the Federal Council and the Swiss Parliament.
Switzerland's international cooperation continued to demonstrate its effectiveness in 2017. Over 80% of the Swiss programmes and projects were judged effective by experts in the field and independent external auditors. These encouraging results show that Switzerland is on course to meet the aims of the 2017–2020 Dispatch.
Marie-Gabrielle Ineichen Fleisch, State Secretary, SECO Director
Manuel Sager, Ambassador, SDC Director General