Managing crises, disasters and fragility
Protecting and assisting the victims of humanitarian crises and disasters is a priority for Switzerland's international cooperation. These humanitarian efforts focus on fragile contexts in particular. The links between hunger and conflict, crop failure, and how communities overcome traumatic events were important focuses for the SDC's work in 2017.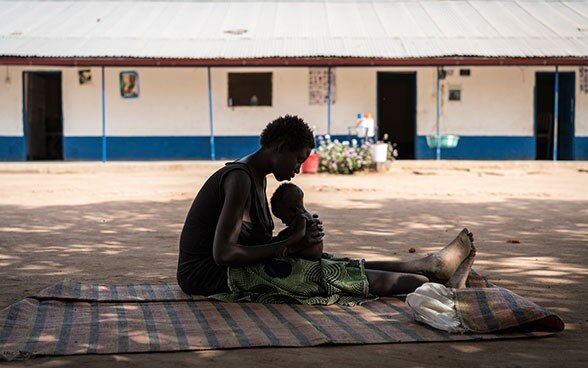 Hunger on the rise again
Nigeria, South Sudan, Somalia and Yemen faced famines in 2017. Some 20 million people were affected by food insecurity caused by armed conflict and the El Niño climate phenomenon. The SDC was already active in these countries before the famines. In 2017 it made extra funding available to support emergency relief and development cooperation activities.
International efforts to end hunger over the last 30 years seemed to be having an impact. The Sustainable Development Goal to achieve zero hunger was closer than ever. Since 2016, however, hunger has been on the rise again: today 815 million people suffer from hunger and a child dies every 10 seconds from the consequences of malnourishment or undernourishment.
Alongside severe weather events such as droughts, armed conflict is a major cause of this renewed increase in hunger worldwide. Hunger and conflict go hand in hand.
Scaling up existing efforts
In 2017, famine on an unprecedented scale loomed against a backdrop of armed conflict in Nigeria, Somalia, South Sudan and Yemen. Switzerland responded immediately to the UN Secretary-General's appeal in February 2017 and made an extra CHF 15 million available for humanitarian relief to alleviate famine. The funding helped secure better means of subsistence and access to clean drinking water for people affected by the crisis. Some of the funds were used to support ICRC missions and efforts by UN agencies such as the World Food Programme (WFP) and the Office of the United Nations High Commissioner for Refugees, which help displaced people facing famine. Switzerland has also been supporting humanitarian efforts in the Lake Chad region; a regional programme in the Horn of Africa has been under way since 2013.
The international response averted unprecedented famine for the time being. But protracted armed conflicts, unfavourable weather conditions and weak governance structures are undoing progress to fight hunger in these countries. Preventing famine remains a huge challenge against this backdrop. Donors – including Switzerland – constantly have to adjust their aid to meet the growing demands. Switzerland is the biggest donor to the WFP's emergency response fund. It contributes CHF 6 million annually to this fund, which can deploy aid within 24 hours of the onset of a crisis. In Somalia, the fund made it possible to deliver 4,000 tonnes of specialised nutrition to vulnerable mothers and children. In 2017, Switzerland called for more use of cash-based assistance (cash or vouchers) to better meet the needs of people affected by disasters. In the last two years alone, 17 members of the Swiss Humanitarian Aid Unit have provided expertise to the WFP.
Humanitarian aid: only part of the solution
People facing famine need urgent assistance, but emergency relief alone cannot end hunger or address its causes. To combat hunger, Switzerland uses its humanitarian aid in combination with development and peace policy instruments to improve the food security of the most vulnerable. It supports agricultural advisory services in South Sudan, helps Nigeria to prepare for coming dry seasons along with partner organisations, and provides Yemen with a platform for peace talks.
Only peace – and thus a political resolution – can end hunger. Despite the setbacks, the Sustainable Development Goal of 'zero hunger' is still within reach.
Southern Africa: strengthening rural resilience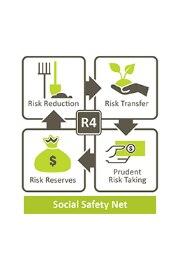 "Last year I only harvested 10 sacks of rice – in good years I harvest 130!" Boyd Mungalu is one of millions of Zambian smallholder farmers. In drought-prone Southern Africa, food insecurity and chronic malnutrition affect 25 million people.
The SDC uses two complementary approaches to support the region: the first is aimed at smallholder farmers directly; the second addresses national decision makers in the countries and the Southern African Development Community (SADC).

The innovative R4 Initiative encourages smallholder farmers in Malawi, Zambia and Zimbabwe to use a combination of risk management strategies:

risk reduction through better agricultural practices and resource management

risk transfer through access to crop insurance

prudent risk taking through livelihood diversification and access to microcredits; and savings for unforeseen expenditures

The R4 Initiative brings private microfinance and insurance bodies together with governments, international insurance companies (e.g. Swiss Re) and development agencies. Thanks to the initiative, Boyd Mungalu now grows a diverse mix of drought-resistant grain that ensures him a reliable harvest.

The Regional Vulnerability Assessment and Analysis Initiative helps SADC member states improve their disaster prevention, relief and reconstruction measures. The SDC project helps national committees systematically explore vulnerabilities with regard to malnutrition, poverty, HIV and environmental degradation. These analyses are used to draw up contingency and development plans at national and regional level to provide faster and more targeted assistance to those in need.
Art as a bridging language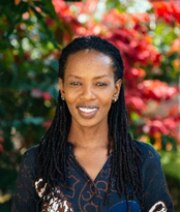 Especially in countries facing post-conflict situations, art and culture can make an important difference in overcoming social wounds. The SDC supports cultural projects in regions dealing with the consequences of conflict.
One such project is the Ubumuntu Arts Festival in Rwanda, which is held at the Genocide Memorial Centre in Kigali and includes performances, workshops and panel discussions, bringing together artists from around the world. For Hope Azeda, the festival's creator and curator, art is a bridging language, a key to opening up a physical dialogue and a true reflection of life.

Hope, what is the main purpose of the Ubumuntu Arts Festival?

Hope Azeda: "The festival was created to provide a platform for public introspection on issues related to social justice, and also to empower communities. It focuses on human values and facilitates conversations about difficult issues through the arts. In addition, we want to provide a space for artists to develop skills, to network and to be creative."

Can art be seen as a bridging language in post-conflict situations?

"Sometimes conversations are very hard, because they spark memories and the wounds are still fresh. I grew up as a refugee in Uganda, and when I came back to Rwanda I found that my society was like a broken mirror. I think art is the link, art is the bridge in post-conflict situations. It provokes a true reflection of life and you begin to stick the pieces back together."

What is still needed to professionalise artists in Rwanda?

"What Rwanda needs is an arts school. Education in the arts helps artists to develop critical thinking, it teaches them how to tackle critical issues professionally and how to communicate freely in society."
Myanmar refugee crisis in Bangladesh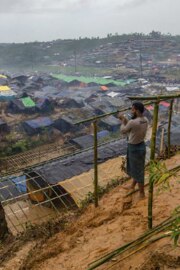 At the end of 2017, Bangladesh was hosting more than 650,000 people fleeing violence in neighbouring Myanmar. They have taken refuge in the border region near Cox's Bazar. The refugees have left everything behind. Many children have lost their parents.
In 2017 the SDC made CHF 8 million available in response to the plight of the Rohingya. This humanitarian action has enabled the refugees to regain access to drinking water, food and sanitation. It has also enabled shelters to be built for the refugees, who arrived en masse. At the SDC, Swiss Humanitarian Aid has also provided diagnostic and other equipment to increase the treatment capacities of two hospitals in the Cox's Bazar region. Five specialists from the Swiss Humanitarian Aid Unit have been deployed to the area to support the UN agencies on the ground. Given the scale of the crisis, its likely protracted duration and impact on the host communities, long-term development efforts to support the host communities in particular will accompany the SDC's humanitarian aid.

On the other side of the border in Myanmar, despite limited access, the SDC has continued to support humanitarian action in Rakhine State.

Switzerland's engagement in Myanmar

Bangladesh and the Rohingya crisis – what solutions? FDFA Interactive blog