A Plus For Humanity: the SDC podcast
Every day, a great number of Swiss women and men work on the SDC's development cooperation and humanitarian aid projects. In the SDC podcast, they tell us about their projects and provide insight into the lives of local people.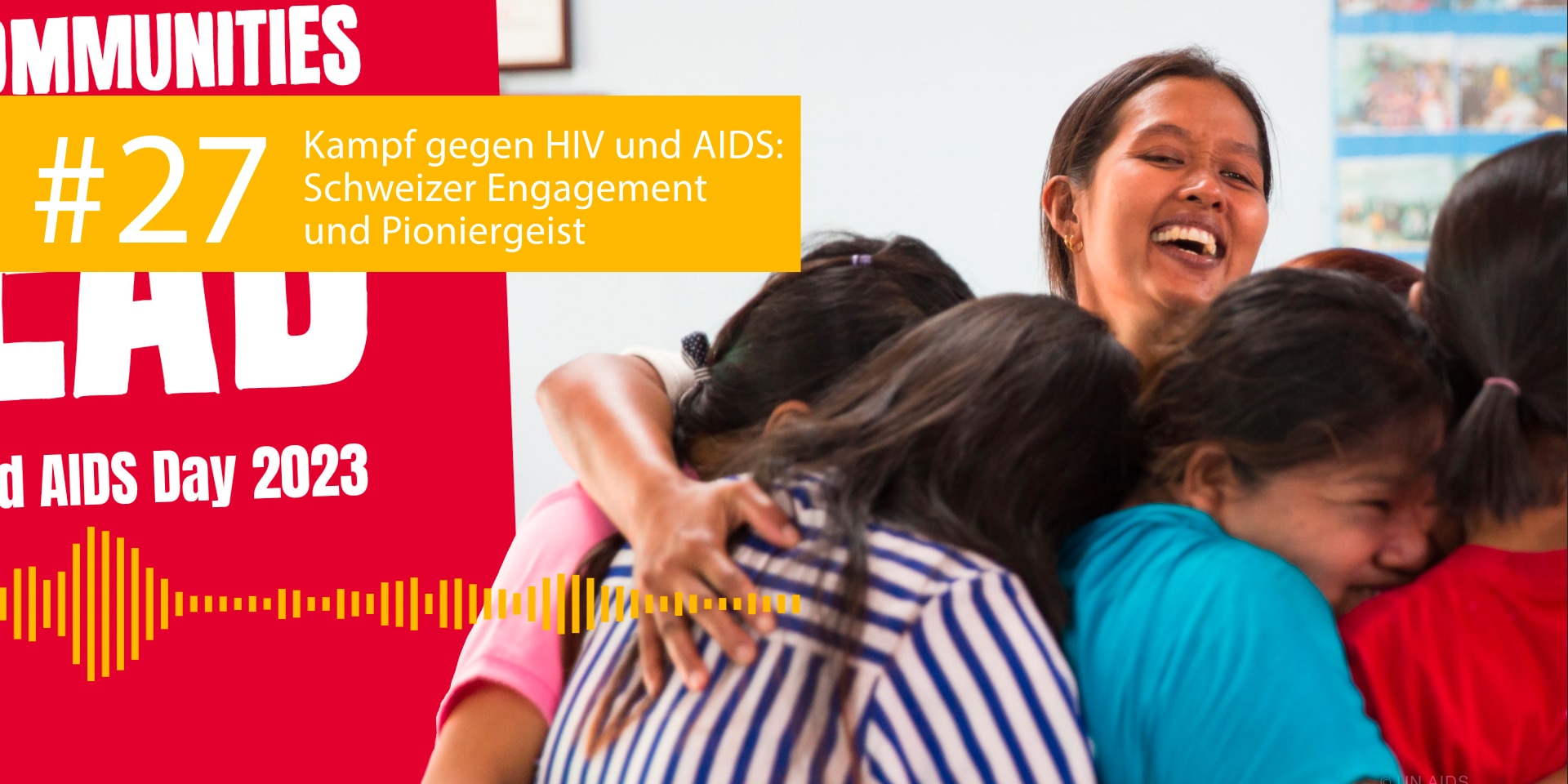 The 27th episode of SDC's podcast is online: "The fight against HIV and AIDS: Swiss commitment and pioneering spirit". © UNAIDS
The SDC podcast A Plus For Humanity has been published every month since September 2021. It covers various topics in the areas of international cooperation and humanitarian aid. Experts from the SDC, partner countries and organisations, as well as people affected on the ground talk about their experiences. Don't want to miss any episodes? Subscribe to the podcast and we'll keep you regularly updated: Anchor, Apple Podcast and Spotify.
30.11.23 – The fight against HIV and AIDS: Swiss commitment and pioneering spirit
Approximately 38 million people live with HIV around the globe, and around 1.3 million people contract the virus every year. Thanks to medication and medical treatment, people with HIV can lead a relatively normal life in the global North. However, the situation is very different in other parts of the world. In the latest episode of the SDC podcast you can find out more about Switzerland's commitment in the fight against HIV/AIDS, and what stumbling blocks a Swiss pioneer had to overcome when he set up an AIDS clinic in Zimbabwe exactly 20 years ago.
20.10.2023 – Mali: Informing to promote peace
Mali is experiencing a period of instability and insecurity and a resurgence of violence. The situation has intensified in recent months and worsened following the coup d'état in neighbouring Niger. Despite this, Switzerland remains committed to the country and continues its mandate of development cooperation and humanitarian aid. Among other things, it is working to improve the education of children and young people, to protect victims of violence or to improve the efficiency of agriculture. In particular, Switzerland supports Studio Tamani, which is based in Bamako, the capital of Mali. A radio programme founded ten years ago by the Fondation Hirondelle, it is financed in part by Switzerland. In the current security situation, those in charge and journalists face numerous obstacles and have to adapt in order to continue to inform.
23.09.2023 – Climate change is not gender neutral!
Whether droughts, hurricanes or floods - women and girls suffer more from climate-related weather extremes and other impacts of climate change than men. However, they are not only victims but also important actors in finding climate-friendly development paths. This applies to both climate change mitigation and adaptation. Listen to the latest episode of the SDC podcast to find out how development and climate change mitigation go hand in hand, and how women can make a difference.

23.08.2023 – Think global, act local: localisation in development cooperation
"Think global, act local". The SDC is on the right track, and it should stay there. This is the tune of the upcoming International Cooperation Strategy. In order to keep on adding value in its partner countries, Switzerland should rely even more on local actors and, wherever possible, leave them in charge of humanitarian and development projects. They know best what's needed on the ground. This is the concept of "localisation".
24.07.2023 – The Mongolian potato project: the seeds sprout
Our latest podcast is dedicated to Mongolia. Between 1999 and 2001, Mongolia was hit by extremely harsh winters which killed over a third of the country's livestock. Thousands of farmers lost their livelihoods. Stefanie Burri, Head of Cooperation in Mongolia, tells us how Switzerland immediately provided emergency assistance; how it promoted sustainable development in subsequent years; and how it is slowly withdrawing from bilateral cooperation with Mongolia.

22.06.2023 – An academic internship at the SDC – three personal accounts
The Federal Department of Foreign Affairs (FDFA) offers academic internships for students and graduates of universities, higher education institutions and universities of applied sciences who wish to gain some professional experience in their field of specialisation. In this episode, three people talk about their experiences: Anja, an academic intern in the 'Fit for Purpose' reorganisation project; Nicolas, an academic intern in the Analysis and Research Section; and Mélanie, a former intern who now works in communications management at the SDC.
22.05.2023 – SHA: 50 years in the service of humanitarian aid
The Swiss Humanitarian Aid Unit (SHA) is celebrating its 50th birthday. Sonia and Robert are members of this unique militia corps that deploys specialists to crisis and disaster areas worldwide. Learn more about their remarkable stories in this podcast. 
26.04.203 – Sustainable solutions for internally displaced persons
Internally displaced persons (IDPs) are people who have been forced to flee their homes within their own country, particularly because of conflict, violence, human rights abuses or natural disasters. In Ethiopia, there are an estimated 4.6 million IDPs, mainly due to recent conflicts in the north of the country and prolonged droughts. What sustainable solutions can the government and the international community offer? And what role can Switzerland play?  In this episode we discuss these questions with Prof. Walter Kaelin, former professor of international and constitutional law and an expert on internal displacement, Martina Durrer, head of regional cooperation in the Horn of Africa, and Meron Getachew, SDC country programme manager for migration and protection in Addis Ababa.
22.03.2023 – Turkey: Switzerland provides access to drinking water and sanitation after earthquake
Water supply, sanitation and hygiene (WASH): all three are necessary to human health. In areas where clean drinking water is unavailable, sewage systems are not functioning and proper sanitation is inaccessible, people get sick. This is what happens following major earthquakes like those that struck Turkey and Syria in early February 2023.
We begin this episode with an interview with a WASH expert who travelled to Turkey with the Swiss Humanitarian Aid Unit to provide emergency relief in one of the regions affected by the earthquake. In the second part of the podcast, we travel to New York, where the UN Water Conference took place at the end of March 2023. 
28.02.2023 – IC Forum: listening to young people
The annual International Cooperation Forum Switzerland 'Education4Future' was held between 15 and 16 February in Geneva. On the second day, young people had the opportunity to present their own ideas and solutions. In the eighteenth episode of the SDC 'A Plus For Humanity' podcast, we talk to 21-year-old Loukina Tille who attended the international event.
19.01.2023 – Manuel Bessler: 11 years working for Swiss Humanitarian Aid
Manuel Bessler reflects on his 11 years as the Federal Council's delegate for Swiss Humanitarian Aid and head of the Swiss Humanitarian Aid Unit in this 17th podcast of the SDC's A Plus For Humanity series.
12.12.2022 – Burkina Faso: The school as a refuge – and an escape from crisis
Around 222 million children around the world have little or no access to education due to armed conflict, forced displacement, natural disasters or other crises. Although this figure has tripled over the past six years, only three per cent of humanitarian aid funding is allocated to education. Ahead of the high-level conference 'Education Cannot Wait', which takes place in February 2023 in Geneva, the sixteenth episode of the SDC podcast 'A Plus for Humanity' takes a look at Burkina Faso and highlights the importance of education for people living in a country suffering from years of war.
09.11.2022 – Tajikistan: water as a unifying element
As water towers, Tajikistan and Switzerland have a lot in common in terms of managing water resources. Both countries are responsible for preserving and safeguarding water supplies for regions extending beyond their national borders. The fifteenth episode of the SDC's podcast A Plus For Humanity looks back at 30 years of bilateral cooperation between Tajikistan and Switzerland and asks what the two countries can learn from each other, for example in terms of water management which is crucial to sustainable development.

10.10.2022 – On behalf of Switzerland: a look behind the scenes at the FDFA
Every day, thousands of people around the world are on the move on behalf of Switzerland. What's their life like? What is a typical working day like for them? And in what ways do global crises like the COVID-19 pandemic and the war in Ukraine affect their work? The fourteenth episode of the SDC podcast 'A Plus For Humanity' takes a look behind the scenes, providing fascinating insights into the lives of two FDFA employees travelling between Bern, Kyiv, Geneva and Kathmandu.

12.09.2022 – Sustainable development: the road to results
Sustainable development takes time. For it to succeed, peoples and governments must walk the path together. But what does that come down to, specifically, when putting it into practice? The thirteenth episode of A Plus For Humanity explores the importance of civil society and the challenges that face it.
09.08.2022 – South Caucasus: boosting women's economic independence
The Swiss Agency for Development and Cooperation (SDC) has been at work in the South Caucasus for over 30 years. It all began in 1988 with a mission following the earthquake in Armenia that claimed around 25,000 lives. After the collapse of the Soviet Union 30 years ago, this initial humanitarian aid operation became a long-term partnership combining instruments of human security, conflict prevention and transformation, humanitarian aid, and technical and financial support. In the twelfth episode of A Plus For Humanity, we head to Georgia to visit a women's economic empowerment project that was successfully implemented over the past five years.
12.07.2022 – Ukraine war: a challenge for the dairy industry
War has been raging in Ukraine for several months now. In addition to human suffering, Russia's attack has brought about enormous economic challenges for local communities. A major sector of Ukraine's economy is agriculture. In the eleventh episode of A Plus For Humanity, dairy farmers talk about the difficulty of selling their produce and keeping their cows healthy, and we learn how Switzerland is supporting dairy producers in Ukraine.
09.06.2022 – Syria, how to provide humanitarian aid during an extended crisis?
Eleven years of civil war in Syria have destroyed most of the country. It is estimated that some 500–600,000 people have lost their lives and a further 13 million have been forcibly displaced. How can Switzerland help during an extended crisis like the one in Syria? We discuss this in the tenth episode of A Plus For Humanity.
09.05.2022 – Burundi: sexual violence and men as part of the solution
The ninth episode of A Plus For Humanity explores how men can be involved in preventing violence and to what extent this prevention also assists in reducing sexual violence and helps people work through possible trauma.
11.04.2022 – Haiti: a country facing major challenges
Haiti faces a twofold challenge: because the country is struck again and again by natural disasters and always has to operate in disaster mode, there is hardly any time to address real challenges such as poverty, discrimination and fair access to basic services. How can this pattern of crises be broken? The eighth episode of A Plus For Humanity explores this issue.
08.03.2022 – Madagascar: life after the cyclone
In early February 2022, Cyclone Batsirai swept across Madagascar, leaving a trail of destruction in its wake. Joint expertise was needed to provide rapid and targeted aid. As part of an audio diary, the seventh episode of A Plus For Humanity takes us to the place where it all happened.
08.02.2022 – How can humanitarian aid be made more environmentally sound and sustainable?
The SDC promotes technological initiatives that make its projects more effective, thereby sustainably improving the living conditions of millions of people. Technologies developed in Switzerland are deployed in various fields, such as agriculture and disaster resilience. The sixth episode of A Plus For Humanity shows how Tech4Good helps achieve the goals of the 2030 Agenda for Sustainable Development.
10.01.2022 – A look behind the scenes: people hard at work for Switzerland
Every day, several hundred employees around the world are working for Switzerland. What does their daily routine involve? What kinds of challenges do they face? And what are the experiences that will stay with them forever? In the fifth episode of A Plus For Humanity, we gain insight into the daily life and work of two employees, one in Yaoundé and the other in Brussels.
09.12.2021 – Jordan: making it through the COVID-19 crisis with help from social assistance
In the fourth episode of A Plus For Humanity, we take a trip some 4,000 kilometres to the southeast – to Jordan. The COVID-19 pandemic has hit the country hard, and the economy is in ruins. Switzerland is helping out with cash and social assistance, among other things. But what is this assistance all about? And above all, how does it help the people living there? Tune in to find out what we learned.
09.11.2021 – Colombia: water, security, reconstruction
Why is water, of all things, a foundation of peace and stability? And why is Switzerland engaged in securing the supply of water in Latin America? The third episode of A Plus For Humanity, from Colombia, answers these questions.
11.10.2021 – The Sahel: drought, conflicts, COVID-19
A record 29 million people are in need of aid in the Sahel. Drought, conflicts, COVID-19: the challenges are enormous. The people in the Sahel are hungry. What is Switzerland doing to help? We look into this – in the second episode of A Plus For Humanity.
07.09.2021 – Lebanon: opportunities in uncertainty
"Our greatest concern is the economic crisis that we have to overcome. It's a very difficult situation for all of us. We are doing our best and our parents are sacrificing a lot for us. But we young people are heading towards a future full of uncertainty." In the first episode of A Plus For Humanity, young people in Lebanon talk about their fears, hopes and aspirations. And we pose the question of what Switzerland can do to support them.