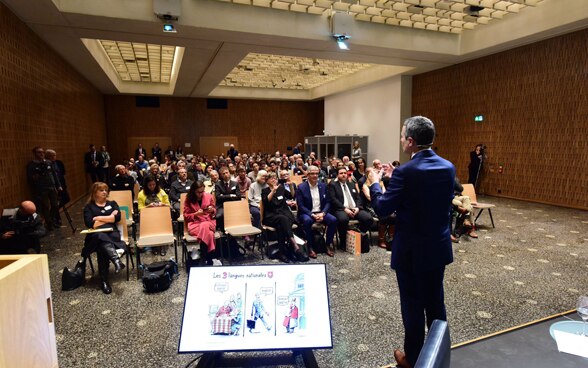 Switzerland recognises Italian and Romansh speakers as minorities under the Council of Europe's Framework Convention for the Protection of National Minorities. Italian and Romansh are also protected in Switzerland under the European Charter for Regional or Minority Languages. Despite efforts made by the federal government and the cantons concerned, their preservation and promotion are far from secure. As society transforms, it is necessary to find ways of keeping these minority languages alive, also outside the confines of the regions where they are traditionally spoken.
The symposium brought together experts from Switzerland and the Council of Europe as well as representatives of civil society. They examined the latest Council of Europe conclusions on Switzerland's implementation of the two international conventions. Ms Chassot outlined the measures planned in the new Culture Dispatch for 2021–24 aimed at promoting and safeguarding Italian and Romansh. She also presented examples of best practice in the areas of education and the media. In his closing speech, Mr Cassis said "Much remains to be done if we really want to capitalise on this huge asset that is the coexistence of four different cultures and languages in our country. It is not enough to talk about it on 1 August – we have to work at it every single day."
The 1992 European Charter for Regional or Minority Languages was ratified by Switzerland in 1997. The principal aim of the charter is to preserve and promote linguistic diversity, which is one of the most valuable elements of European culture. The 1995 Framework Convention for the Protection of National Minorities is the only legally binding multilateral instrument dedicated to protecting national minorities. Ratified by Switzerland in 1998, it aims to protect the existence of national minorities in the respective territories of the states parties, and to promote full and effective equality for national minorities by ensuring that the conditions are in place for the conservation and development of their culture and the preservation of their identity.
Promoting multilingualism and understanding between linguistic communities is one of the pillars of Swiss language policy. The Languages Act, which came into force on 1 January 2010, aims in particular to strengthen exchanges between linguistic communities, improve individual and institutional language skills and safeguard the Romansh and Italian languages and cultures.
---
Further information:
Speech by Federal Councillor Ignazio Cassi

---
Communicaziun a las medias(pdf, 276kb)
Discurs cusseglier federal Ignazio Cassis (ro)(pdf, 443kb)

---
Address for enquiries:
FDFA Information
Federal Palace West Wing
CH-3003 Bern, Switzerland
Tel.: +41 58 462 31 53
E-mail: info@eda.admin.ch
Twitter: @SwissMFA

Federal Office of Culture FOC
Anne Weibel
Communication
Tel. +41 58 462 79 85
anne.weibel@bak.admin.ch
---
Publisher:
Federal Department of Foreign Affairs
Federal Department of Home Affairs