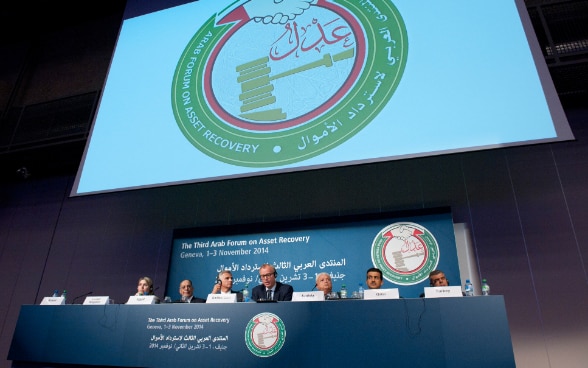 At the request of the G7, Switzerland hosted the third meeting of the Arab Forum on Asset Recovery on 1 to 3 November 2014 in Geneva. This forum was created at the initiative of the United States presidency of the G8 in 2012. The overall objective is to support the Arab countries in transition in their respective procedures to recover illicit assets. The forum, which was opened on Saturday by the President of the Swiss Confederation, Didier Burkhalter, brought together 250 specialists from 40 countries. Numerous substantive and thematic discussions as well as bilateral meetings between the delegations characterised this year's meeting.
The final declaration of the three chairs of the forum – Switzerland, Egypt and Tunisia – published on Monday contains the most important conclusions of the conference. Emphasis was placed on the shared responsibility of all states to return illicitly acquired assets to the people of the countries concerned. The restitution of what are commonly referred to as "potentates' assets" is crucially important for maintaining the people's trust in the rule of law and for the development of the countries concerned. It was also acknowledged, however, that the procedures needed to achieve this are complex and time consuming. The chair's statement set out a number of important factors for successful cooperation in this field.
In his opening speech on Saturday, President Burkhalter pointed out that Switzerland's commitment to combating potentates' assets dates back more than 20 years and has so far resulted in the restitution of a total of USD 1.8 billion – more than any other other financial centre. Switzerland is resolutely committed to fighting the existence of illicit assets of politically exposed persons (PEPs) on its territory, and this was explicitly recognised and welcomed by the states concerned, especially Egypt and Tunisia.
Since the first case of potentates' assets in Switzerland – the Marcos affair in the 1980s – Switzerland has developed an effective legal framework. The most recent development is the draft federal act on the freezing and restitution of illicitly acquired assets of foreign PEPs, which became necessary following the extension of the freeze on Egyptian and Tunisian assets in Switzerland in December 2013. The bill will be debated in Parliament in 2015.
Switzerland can already demonstrate initial successes in the context of the Arab countries in transition. Thanks to close cooperation between the authorities involved, in April 2014 the Office of the Attorney General of Switzerland ordered the early restitution to Tunisia of approximately USD 40 million. This decision is pending before the Federal Criminal Court.
Close cooperation between the countries of origin and the financial centres is decisive for the successful restitution of potentates' assets. The Arab Forum – the first platform worldwide for concrete discussion on the restitution of illicit assets – contributes to achieving such cooperation.
For further information:

Pierre-Alain Eltschinger
Spokesperson
FDFA Information
+41 79 517 79 82
---
Further information:
FDFA: Arab Forum on Asset Recovery (AFAR)

---
Address for enquiries:
Information FDFA
Bundeshaus West
CH-3003 Bern
Tel.: +41 58 462 31 53
Fax: +41 58 464 90 47
E-Mail: info@eda.admin.ch
---
Publisher: