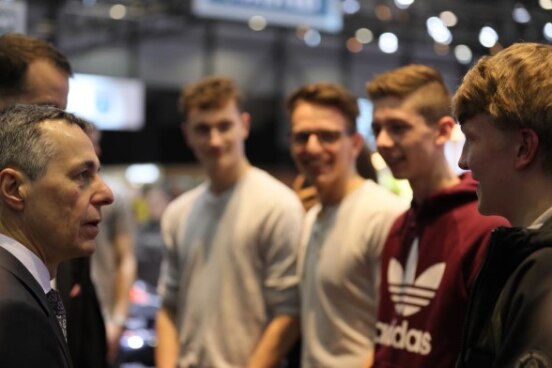 M. le Président du Salon de l'automobile,
M. le Directeur général du Salon,
Madame la Chancelière d'Etat,
Mesdames et Messieurs,
1. Incipit

C'est un honneur pour moi d'être aujourd'hui avec vous et c'est un grand plaisir de me trouver au milieu de toutes ces voitures. Et, pour une fois, pas des voitures au centre-ville à l'heure de pointe, mais des voitures qui font rêver!

En effet les voitures me font rêver: depuis mon plus jeune âge elles me fascinent. La liberté, la technologie, la vitesse, la beauté des lignes: ce sont des émotions qui enrichissent nos vies.

Mon père – qui est décédé il y a bientôt 10 ans – m'avait laissé en héritage une FIAT Giardinetta de 1952. Une merveille que je garde avec passion. Elle me rappelle mon père, mais aussi mon enfance, mon village, mes sœurs… il y a cinquante ans.
Merci de m'avoir invité à revisiter ces émotions!
L'Exposition nationale suisse de l'automobile et du cycle, aujourd'hui devenu le « Salon de l'automobile », nous inspire depuis plus de cent ans.

C'était alors, et c'est aujourd'hui encore, le signe d'une Suisse dynamique. J'ai encore appris, et c'est un petit détail, mais il me lie un peu plus au salon, qu'une des premières éditions s'était tenue au « Bâtiment électoral », au boulevard Georges-Favon. Enfin, il n'avait rien bien sûr d'électoral et n'était pas issu d'une élection, mais ça me le rend sympathique.
Revenons à la première exposition, en 1905. Parmi les modèles exposés, on trouvait la « Type A », un véhicule produit en Bohême. Deux cylindres, sept chevaux – le standard d'alors. Déjà à l'époque, cette voiture ne passait pas inaperçue, tellement elle était belle: imaginez-vous ce que ce serait aujourd'hui!

Avec un emploi du temps de conseiller fédéral, la voiture est devenue pour moi plus un bureau mobile qu'une occasion pour ressentir des émotions liées à la liberté ou la vitesse. J'y travaille et je lis de nombreux documents… bien sûr sans toucher le volant.

Voilà qui n'aurait pas été possible dans la « Type A »: elle était ouverte, avec une petite capote pour protéger du soleil, et le vent aurait mis mes dossiers confidentiels sens dessus dessous!
2. La Genève internationale

En tant que « Ministre » des affaires étrangères, je suis souvent à Genève, dans cette Genève internationale qui rayonne dans le monde. Elle le fait certes grâce aux institutions onusiennes et internationales, mais aussi grâce au Salon de l'auto. J'avoue donc être un tout petit peu jaloux des ministres de ce Canton, qui ont la chance de gouverner un territoire qui est bien plus qu'un Canton, au vu de sa portée internationale. Je salue en particulier le Président du Conseil d'État de la République et Canton de Genève, Monsieur Antonio Hodgers, qui est parmi nous.

Et je le félicite d'avoir été nommé « Gender Champion », ce qu'il lui permet de déléguer avec élégance son discours à Madame la Chancelière d'Etat Michèle Righetti.
3. La Genève nationale

Ce qui est particulier au Salon de l'auto, c'est sa capacité de fusionner la Genève internationale avec la Genève nationale.! Le Salon a en effet une portée nationale importante. Chaque année, l'événement rassemble ici les habitants de notre pays: nous l'oublions souvent, près de la moitié des 700'000 visiteurs du salon vient de Suisse.

Il suffira de prendre le train durant ces deux prochaines semaines pour voir qu'un grand nombre de visiteurs afflue de toutes les régions de notre pays.

Et à côté des langues usuelles de la Genève internationale – anglais, français, russe, chinois, arabe, espagnol – on entendra ainsi les différentes langues suisses: le zurichois, le bernois, le bâlois, le lucernois, le saint-gallois etcetera. Etrange Pays que cette Suisse: nous inscrivons quatre langues nationales dans la Constitution (l'allemand, le français, l'italien, le romanche) mais la majorité (le 63 pourcent) en utilise une cinquième, le suisse allemand – le Schwiitzer Tüütsch!

Ainsi, ici, dès l'aube, il vous est possible de parfaire vos connaissances linguistiques – si nécessaire – et de découvrir une Suisse finalement rarement aussi présente à Genève que pour l'occasion du Salon de l'automobile!
4. Les étudiants

Venons-en aux étudiantes et aux étudiants, puisque leur présence au salon est importante. Vous y verrez beaucoup de jeunes femmes et de jeunes hommes à côté des automobiles exposées. Ils symbolisent l'élan, la force, le dynamisme, la beauté. Et c'est délibéré, bien sûr: ils exaltent ainsi les émotions véhiculées par les véhicules – si vous me permettez l'expression!

Il est loin, le temps où le Salon de l'auto se tenait au centre-ville. Aujourd'hui, ce sont eux, les étudiants de l'Université et des écoles de Genève qui font le bonheur des commerçants du quartier de Plainpalais qu'ils fréquentent toute l'année. Mais grâce à leur présence ici, ce lien entre le centre, avec ses bistrots du Boulevard Carl-Vogt par exemple, et le Salon reste vif. Une simple occasion de revenu pour ces jeunes, mais qui est aussi chargée de symboles.
5. Les nouvelles technologies et l'environnement

Il y a un autre signe que les temps changent, peut-être: les visiteurs ne se rendent plus nécessairement au Salon de l'auto pour acheter une voiture (et pour y bénéficier du fameux rabais qu'offraient les concessionnaires), mais surtout pour y découvrir les dernières nouveautés en matière automobile et technologique.

Un thème surtout s'impose désormais: le respect de l'environnement. Jusqu'à la fin du siècle dernier, les thèmes environnementaux intéressaient une minorité de personnes seulement. L'idée dominante tenait dans une sorte d'opposition quasi naturelle entre économie et écologie. Ce n'est plus le cas aujourd'hui: ces thèmes sont entrés sans conteste dans l'agenda politique de l'Etat et les nouvelles technologies sont maintenant axées sur la protection environnementale.

Prenons par exemple la campagne «CO2 au plancher» («CO2 tiefer liegen») que la Confédération présente cette année au Salon. C'est une campagne de SuisseEnergie pour la promotion des véhicules efficients en énergie. Toutes les voitures qui émettent moins de 95 g/km de CO2 et qui font partie des catégories énergétiques A ou B respectent les critères de co2auplancher. Je vous avoue maintenant une petite satisfaction toute personnelle: sur le site Internet de la campagne, j'ai trouvé la petite voiture électrique que ma femme et moi conduisons à titre privé.
6. Le secteur automobile

Mesdames et Messieurs,

Donc il faut garantir la mobilité, à l'ère où on veut être partout, vite, et où l'on est si nombreux à devoir se déplacer – mais sous une forme qui préserve les ressources: voilà ce que l'on attend du secteur automobile (rien que ça)! Et celui-ci nous montre régulièrement ce qu'il est possible d'atteindre grâce aux progrès technologiques et par l'innovation – ce sont ces évolutions que nous avons la chance de découvrir ici au Salon de l'automobile.
La Suisse ne produit pas de voitures, mais l'industrie automobile fourni des emplois à plus de deux cent vingt mille personnes dans plus de vingt mille entreprises (ce sont là les chiffres de 2017), qui vont des garages ou ateliers de carrosserie aux concessionnaires automobiles, en passant par les stations-service, les moniteurs d'auto-école et les entreprises de recyclage de pièces et d'anciennes voitures. On parle donc d'un chiffre d'affaires de quelques 12 milliards de francs, rendu possible grâce aux accords bilatéraux avec l'UE. Parce que la quasi-totalité de ces entreprises achète en effet le matériel à l'étranger et écoule aussi une grande partie des produits hors de nos frontières. C'est l'Allemagne qui est, et de loin, à la fois notre principal fournisseur et notre plus grand client.

Nous avons là un autre exemple de la nécessité de consolider la voie bilatérale avec l'UE par un accord cadre institutionnel, qui est actuellement en discussion.
7. The Geneva Science & Diplomacy Anticipator

Passons enfin, pour conclure, au futur: quelle sera l'automobile du futur? Un véhicule interconnecté qui n'aura plus besoin d'un conducteur? Une machine hybride qui roule et vole en même temps? Un appareil doté d'un pare-brise intelligent? Une voiture modulable qui s'adapterait aux besoins ou au nombre de passagers?
La mobilité a été définie par les Nations Unis comme un droit de l'homme dans la Charte du 1948. On lit à l'article treize alinéa un : «Toute personne a le droit de circuler librement et de choisir sa résidence à l'intérieur d'un Etat».

Face à une nouvelle mobilité, sur la route comme dans les airs, pilotée par ordinateur, et qui n'était guère envisageable en 1948, bien des questions se posent aujourd'hui déjà. La science étudie les principes physiques de cette mobilité et la technologie crée des prototypes qui seront bientôt des réalités.
Comment aborder ces questions d'avenir et de société? Quel avenir à la mobilité et quelle place à notre humanité? Faudra-t-il intervenir pour édicter un code éthique qui s'imposerait à tous les véhicules autonomes? Et alors, qui en serait responsable? Les humains ont toujours excellé à inventer des outils, beaucoup moins à en faire un usage avisé.
C'est pour se pencher sur ce genre de questions justement que le Conseil fédéral, avec le Canton et la Ville de Genève (merci Monsieur Hodgers), ont relevé le défi et créé ce 20 février dernier la fondation «Geneva Science and Diplomacy Anticipator». Comme son nom l'indique, le défi est celui d'anticiper les questions qui sont liées à notre avenir. Pour le faire, il faudra rapprocher la science, la diplomatie internationale et les organisations compétentes.
Quel autre lieu aurait pu être plus approprié que la Genève internationale, avec sa tradition multilatérale, l'excellence académique de l'arc lémanique (le CERN compris) et des événements internationaux tournés vers le futur comme le Salon de l'auto? Celui-ci attire particulièrement les jeunes: l'année dernière, près de 30% des visiteurs avait entre 15 et 29 ans.

Aujourd'hui, c'est surtout pour eux qu'il faut rendre le futur possible, dans le respect de notre planète.
Merci pour votre attention !