Swiss Abroad

President of the Swiss Confederation Guy Parmelin: National Day 2021 greetings for the Swiss abroad
© WBF / swissinfo.ch
According to the Statistics on the Swiss Abroad compiled by the Federal Statistical Office, in 2020 around 776,300 Swiss citizens were registered with Swiss representations abroad. The Swiss community abroad has grown in recent years. If it were a canton it would be Switzerland's fourth largest in terms of population.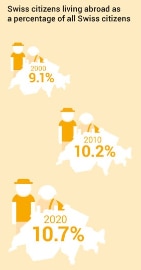 Both the number of people emigrating and the type of emigration have changed. More and more Swiss nationals are moving to a foreign country for a limited period of time to subsequently return to Switzerland or to move to another foreign country. 
Increasing international mobility has created complex needs with repercussions for the services provided by the FDFA and the work of Swiss representations abroad. The FDFA supports mobility, assists Swiss citizens wishing to move abroad or return to Switzerland, and provides information for Swiss citizens abroad. In order to safeguard the rights and obligations of the Swiss community abroad set out in the Swiss Abroad Act and enable Swiss citizens abroad to stay in touch with Switzerland, the FDFA has modernised and optimised its comprehensive range of services worldwide.
Statistics on the Swiss Abroad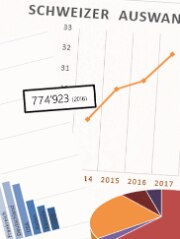 Every year, the Federal Statistical Office publishes, in cooperation with the FDFA, the latest figures on Swiss nationals living abroad.
Statistics on the Swiss Abroad