Hungary – A partner country for Switzerland's contribution to EU enlargement
Between 2007 and 2017, Switzerland contributed CHF 124.2 million to the successful implementation of 39 projects in Hungary.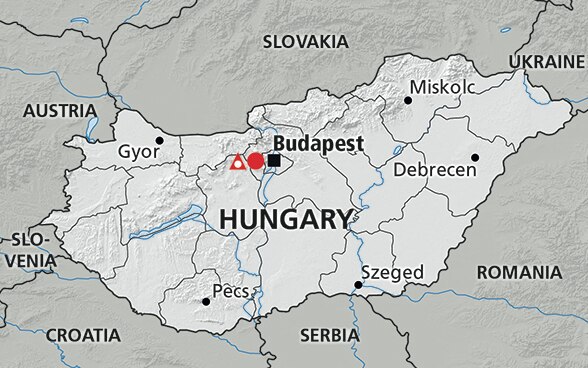 | | |
| --- | --- |
| | Embassy |
| | Mission / Delegation / Permanent Representation |
| | Consulate general |
| | Honorary representation |
| | Cooperation office |
| | Contribution Office |
| | Embassy with Cooperation Office |
| | Embassy with Regional consular center |
| | Swiss Business Hub |
| | Swissnex |
| | City |
| | Capital |
| | Disputed border |
| | River |
| | Lake |
Figures relating to Switzerland's contribution to EU enlargement:
Switzerland's contribution:
131 mio CHF (2007-2012)
EU-Funds:
25,3 bn Euro (2007-2013)
21,9 bn Euro (2014-2020)
General information about the country:
Population:
9.8 mio
Area:
93 000 km²
Growth rate (% of GDP):
4%
Swiss exports to Hungary:
1'037.0 mio CHF
Swiss imports from Hungary:
1'105.7 mio CHF
Purchasing power with regard to the EU average:
68%
Unemployment rate:
4.2%
Source: Eurostat, Swiss Foreign Trade Statistics (june 2018)

Die wichtigsten Kennzahlen zu Ungarn
Focus area
In addition to the thematic focus indicated below, part of the enlargement contribution is also to be geographically concentrated. The regions «Northern Hungary» and «Northern Great Plain» are vested with priority. With a per capita gross domestic product lying at approx. 42% of the EU-27 average, these regions boast the lowest development indicators in Hungary. At least 40% of the enlargement contribution to Hungary is to go to the benefit of these regions either directly or indirectly.
Documents (12)
News (27)
29.10.2010 – Local news

Switzerland is contributing 35.67 million Swiss francs toward six infrastructure projects in Hungary. Four of the projects focus on improving the water supply and water quality. The other two projects entail measures designed to assist environmental monitoring, amongst other things by supplying modern measurement equipment.
---
08.06.2010 – Press release

Hungary is getting prepared to face a major risk of flooding in the north of the country. The Danube and the Tisza are threatening to overflow their banks towards the middle of next week. To cope with this threat, the Hungarian government has requested the aid of its European partners. Switzerland will deliver 500,000 bags of sand and dispatch to the site three experts from the Swiss Humanitarian Aid Unit.
---
31.03.2010 – Local news

On 30.3.2010 President of the Confederation Doris Leuthard approved the first Swiss project to support the Hungarian private sector. The aim of the project is to ensure the long-term financing of small and medium-sized enterprises (SMEs). This will help to create a large number of jobs.
Videos (2)
Information on Switzerland's contribution to the enlarged EU: a brief presentation including project examples.
---