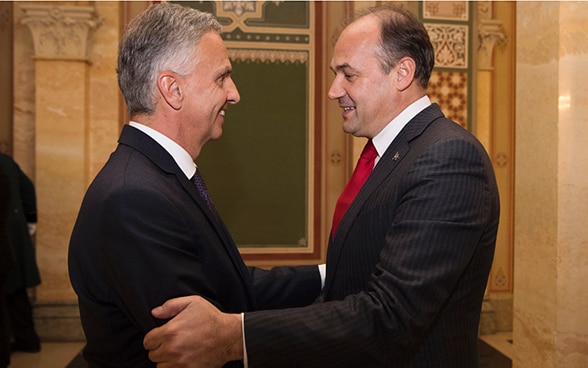 At his meeting with his Kosovar counterpart, which took place on Wednesday in the 'Salon du Président' in the Federal Palace, Mr Burkhalter emphasised how Switzerland values the warm relations that it enjoys with Kosovo. These are characterised in particular by strong human ties, expressed in the numerous common interests with regard to social, economic and political issues. The latter were also discussed by the two ministers. Mr Burkhalter, for example, raised the partnership on migration, which benefits both countries, and saluted the regular exchanges and positive working relationship between the Swiss and Kosovar authorities, especially where the readmission of nationals is concerned.
The two ministers also addressed the challenges that Kosovo still faces eight years after becoming independent. Didier Burkhalter emphasised the need to strengthen democratic institutions and political dialogue in order to ensure lasting stability. Switzerland has been engaged in Kosovo since 1998 and is one of the country's principal partners and donors on the ground. In view of the mutual interest in this commitment, it values the fact that the Kosovar authorities are stepping up their efforts in the current programme of reforms, as well as in the establishment of a constitutional state. Mr Burkhalter assured Mr Hoxhaj of Switzerland's willingness to maintain its support for Kosovo's endeavours towards good governance. To achieve both the regional and European integration of Kosovo, Switzerland stands alongside the international community as an active player in the country, providing support for projects promoting economic development and vocational training, water systems and health. Switzerland welcomes the progress that has been achieved in these areas, specifically the greater access that young people now have to vocational training, as well as the availability of mains water to those living in rural areas.
Mr Burkhalter also talked with Mr Hoxhaj about the situation in the region. Here, too, he underlined the importance of stability, pointing out that Switzerland's participation in the international Kosovo Force (KFOR) peace mission represents the country's largest military engagement abroad. Relations between Kosovo and its neighbouring countries, including Serbia, also featured on the agenda for the meeting. Mr Burkhalter learned from Mr Hoxhaj about how Kosovo sees the situation, in particular the delicate question of certain borders, and the possibility of a breakthrough. They also discussed the initial stages of the process of normalising relations between Belgrade and Pristina.
Mr Burkhalter and Mr Hoxhaj concluded their meeting by discussing international and multilateral issues. These included the European outlook on Kosovo, as well as the rapprochement between Kosovo and certain international organisations and European institutions, such as the Organization for Security and Co-operation in Europe (OSCE), and the Council of Europe. 
There are some 200,000 to 250,000 Kosovars currently living in Switzerland and providing significant financial support to their young state. Trade between Switzerland and Kosovo remains nonetheless modest, and the transition of the country to a functioning and competitive market economy remains an enormous challenge.
---
Further information:
Bilateral relations between Switzerland and Kosovo
Swiss engagement in Kosovo
Short report Kosovo: Visit to Gani Haizeri

---
Address for enquiries:
Information FDFA
Bundeshaus West
CH-3003 Bern
Tel.: +41 58 462 31 53
Fax: +41 58 464 90 47
E-Mail: info@eda.admin.ch
---
Publisher: