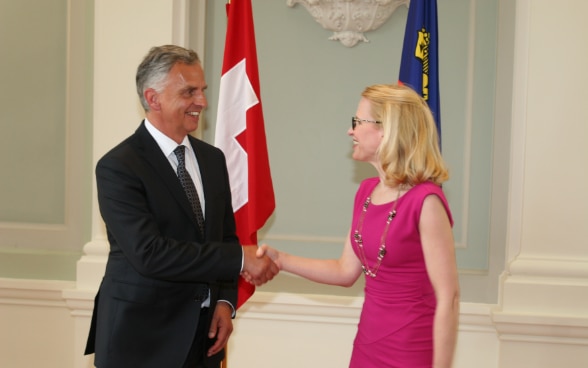 At the 'Entrepreneur Day Liechtenstein, Rheintal, Vorarlberg', held today in Vaduz, Mr Burkhalter gave a speech on innovative foreign policy approaches Switzerland can use to help shape the future. In keeping with the motto of this year's Entrepreneur Day, "Success with new Business Models", Mr Burkhalter noted that the most innovative aspect of Switzerland's foreign policy is that it is not only based on interests but also on values, combining both: "We are better able to pursue our interests (security and prosperity) if we represent clear values (more peace, human rights and democracy, less poverty and a healthier environment)." Moreover, one of the inner strengths of Switzerland's foreign policy is that it is citizen-oriented: "It is ultimately our political culture that makes Switzerland's foreign policy unique and that enables it to be forward-looking, innovative and creative." In today's world, this is more necessary than ever, he said.
Mr Burkhalter outlined four strategic priorities which Switzerland will pursue over the next four years as part of its foreign policy objectives:
1. Cultivate relations to the European Union and to the EU and EFTA states, taking particular account of its neighbouring countries.
2. Strengthen relations with our partners around the world.
3. Strengthen Switzerland's commitment to peace and security.
4. Contribute to sustainable development and prosperity around the world. In this context, Mr Burkhalter described Switzerland's new international cooperation approach which combines the instruments of humanitarian aid, cooperation with Eastern Europe, and peacebuilding in a common strategic framework, producing synergies and enhancing the effectiveness of Switzerland's commitment.
Meeting challenges at the international level also requires good partners, stressed Mr Burkhalter. Close cooperation with Liechtenstein within the UN, for example, can also produce significant progress in efforts to promote human rights, international accountability and international jurisdiction. Liechtenstein is one of Switzerland's key partners in this area.
Bilateral talks with members of the government
In his meeting with Liechtenstein's Minister of Foreign Affairs, Education and Culture, Aurelia Frick, Mr Burkhalter discussed cooperation at international level, bilateral relations, the situation in Europe, and the status of the implementation of the new constitutional provisions on immigration. Another topic of discussion were the potential consequences of restricting immigration numbers for Liechtenstein, which is a member of the European Economic Area (EEA). Around 10,000 people, including 3,000 EU nationals, commute from Switzerland every day to go and work in Liechtenstein. Just under 400 citizens of Liechtenstein work in Switzerland. In implementing the new constitutional article on immigration, the Federal Council aims to fulfil the mandate given by the majority of the Swiss electorate to manage immigration and at the same time safeguard Switzerland's bilateral approach with the EU. Mr Burkhalter stressed that a mutually agreed solution with the EU would also reestablish legal security.
The status of the implementation of the new constitutional provisions was also the main topic of Mr Burkhalter's meeting with Liechtenstein's Deputy Prime Minister and Minister of Home Affairs, Justice and Economic Affairs, Thomas Zwiefelhofer.
---
Further information:
Bilateral relations Switzerland – Liechtenstein
Speech by Federal Councillor Didier Burkhalter in Vaduz (de)

---
Address for enquiries:
Information FDFA
Bundeshaus West
CH-3003 Bern
Tel.: +41 58 462 31 53
Fax: +41 58 464 90 47
E-Mail: info@eda.admin.ch
---
Publisher: