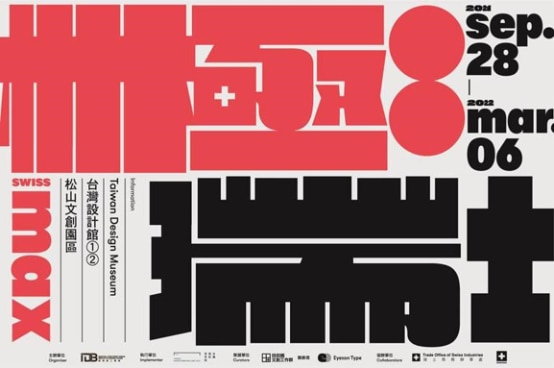 Funded by Industrial Development Bureau, Ministry of Economic Affairs and conceived by Taiwan Design Research Institute, the Swiss Design Exhibition- SWISS MAX features iconic work over 70 years by an array of Swiss designers and brands representing Switzerland's rich history and achievement in the field, including Most Beautiful Swiss Books 2020, Armin Hofmann 100, posters from Museum für Gestaltung Zürich, Swiss household names such as Victorinox, Vitra, SIGG, Swatch, Freitag and many more.
Through 100 designers, 100 design products, 100 posters, 100 books, SWISS MAX invites visitors to explore minimalism, clarity, precision, aesthetics, functionality, all of the guiding principles that maximize the excellence of Swiss Design.  
SWISS MAX is on view from 28th September 2021 through 6th March 2022 at the Taiwan Design Museum, inside the Songshan Cultural and Creative Park. 
A series of lectures and workshops will be announced at a later day.
For more information, please visit Taiwan Design Musuem.