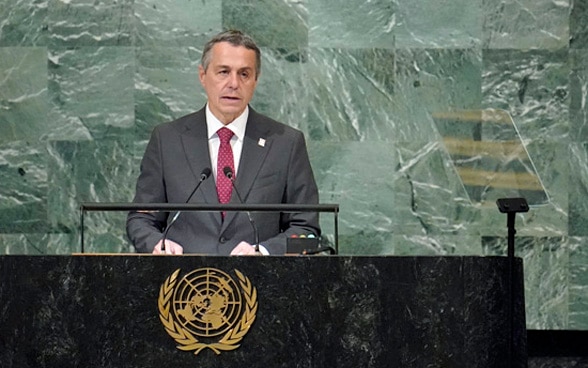 Major global challenges such as global warming, health crises, armed conflicts and related food shortages require common solutions and coordinated efforts by the international community. Switzerland is therefore committed to a strong, effective and legitimate multilateral system. In particular, it cooperates with the various UN bodies and multilateral development banks, but also with the International Committee of the Red Cross (ICRC), whose activities are mandated by the international community.
As a small country with a very open economy, Switzerland relies on a strong multilateral system governed by common values, norms and rules. The United Nations plays a key role in setting international standards, for example in the protection of global public goods such as the environment and water, human rights and gender equality. Multilateral development banks play a key role in financing and supporting sustainable development in emerging and developing countries. With their capacity to ensure a rapid, targeted and coordinated response, the UN and its local partners, the ICRC, and the International Federation of Red Cross and Red Crescent Societies (IFRC) also play a vital role in crises, armed conflicts and natural disasters by providing valuable humanitarian assistance.
For this reason, Switzerland is an active participant in the shaping of the multilateral system, defending its own interests with regard to those of other nations in this context. It makes proposals for reforms to increase efficiency, encourages coordinated collaboration between different institutions, and advocates for strengthening and supporting local actors, particularly in terms of participation and accountability. The aim of these efforts is to better address the global challenges faced by all nations and to provide support to countries particularly affected by crises.
Almost 40% of the current framework credit commitments for technical cooperation and financial assistance to developing countries take the form of financial support to UN funds and programmes and multilateral development banks (known as 'regular resources'). The remaining 60% is allocated to bilateral cooperation. Almost one fifth of this amount is used to finance projects implemented directly by multilateral organisations.
The UN and the multilateral development banks, with their considerable expertise and resources, are making a vital contribution to the achievement of the 2030 Agenda's Sustainable Development Goals alongside their local partners.
Through its democratic and humanitarian tradition, Switzerland is seen as a neutral and innovative actor. Thanks to its extensive network of embassies and cooperation offices, Switzerland also has concrete knowledge of the impact of crises around the world and intervenes directly in countries affected. For these reasons, Switzerland enjoys a high level of credibility in multilateral forums.