Swiss aid in Ukraine: a lot of crisis management and even more flexibility
Switzerland is adapting its international cooperation activities to the situation brought about by the Russian attack. Existing contacts and resources are being used to meet the increased need for humanitarian aid. Projects already under way on 24 February 2022 will be adapted and expanded in cooperation with local partner organisations or the authorities. Actors of international cooperation in Ukraine report on their experiences.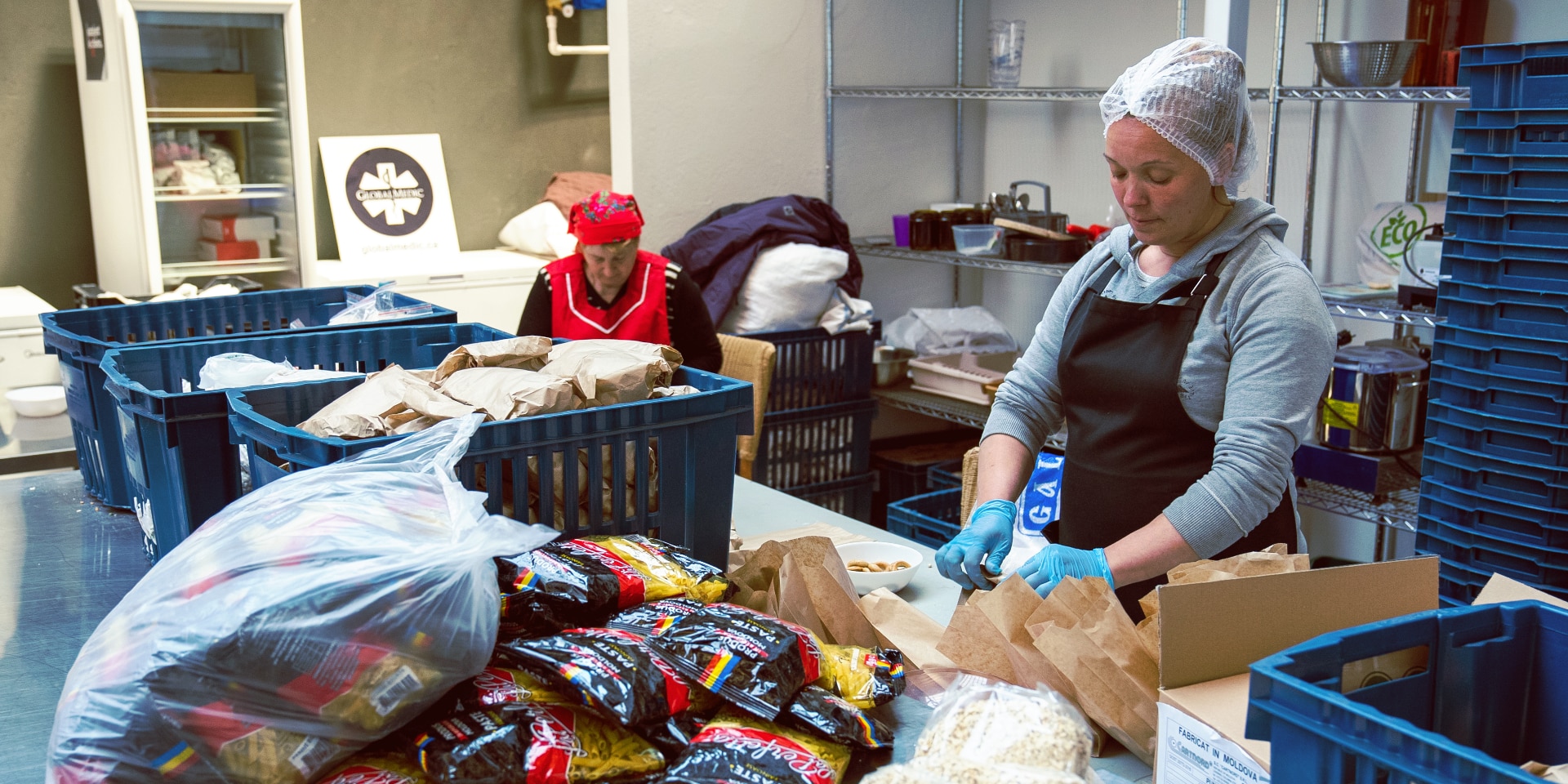 Switzerland is not only responding in Ukraine, but is also supporting neighbouring countries. For example, the "Catalyst Kitchens" project supported by the SDC in Moldova has been packing food packages for Ukraine since the Russian attack. © FDFA
"We are here, we are working," affirms Mariia Druzhynina, programme manager on the international cooperation team at the Swiss embassy in Kyiv. In her video statement, she emphasises that the top priority is flexibility. Mariia Druzhynina, who fled to neighbouring Moldova and is continuing her work from there, still feels like she is in a kind of nightmare. She can barely believe that the kind of extreme violence her homeland is suffering could erupt like this in the 21st century.
The Swiss embassy in Ukraine reopened on 19 May two and a half months after closing temporarily on 28 February due to safety concerns, although it continued to operate during this period. Five FDFA staff members have returned to Kyiv. This decision was taken after a thorough analysis of the security conditions.
Switzerland adapts its activities supporting Ukraine
Prior to 24 February 2022, Switzerland was active in Ukraine through several international cooperation instruments in the areas of peace, protection and democratic institutions, urban development, SMEs and competitiveness, and health. Since Russia's military aggression started, the international cooperation team of the reopened embassy in Kyiv has not been alone in its crisis-mode work: all staff members have been drawing on their resources and contacts flexibly to provide assistance on the ground as efficiently as possible. They are also drawing on experiences of digital working gained during the COVID-19 pandemic.
Here are a few examples of ways in which the Swiss Agency for Development and Cooperation (SDC) is adapting its work to take into account the new circumstances:
Since mid-April, several humanitarian aid staff members have been active in the western Ukrainian city of Lviv. On the ground, Swiss Humanitarian Aid Unit (SHA) experts are working to implement medium-term assistance measures in the areas of water, health and protection. The humanitarian support package is based on and complements the ongoing cooperation programme.
Well-established projects are continuing but with a change of focus. For example, at railway stations in western Ukraine where trains arrive from the embattled east, mobile care teams working for the Swiss project Mental Health for Ukraine receive people who have fled their homes. Before the military aggression, this project was aimed at helping to reform the Ukrainian mental health care system and to train health care professionals. The project is now receiving additional funding from Switzerland and will be scaled up.
The DECIDE project was aimed at promoting decentralisation within the Ukrainian school system. During the COVID-19 pandemic, the All-Ukrainian Online School platform was created to provide schoolchildren with online learning resources. Since the attack on Ukraine, many children who otherwise could not attend school have been using this platform In addition, the project has used schools and kindergartens as temporary shelters for people displaced within the country.
The EGAP project is also very important for these internally displaced persons, as it helps Ukrainian municipalities to digitalise their services: people are registering with a platform that the project supports to continue to receive public services.
With these crisis-induced changes and the Swiss humanitarian aid coming in, conditions are right for Switzerland to provide targeted help to the people affected by the war and to maintain its reputation in Ukraine, where it is respected as a flexible and trustworthy partner.
Switzerland's engagement in Ukraine
Ukraine is a priority country for Switzerland's international cooperation. The two countries have maintained diplomatic relations and cultivated cooperation in the area of development since the 1990s.
Following the annexation of Crimea in 2014, Switzerland significantly stepped up the work of its programme, which is implemented by the SDC, SECO and the Peace and Human Rights Division (PHRD) of the FDFA.