"People are dying because aid can't reach them"
The effects of climate change are exacerbating political, social, economic and ecological stress factors and increasing the risk of conflicts. The Berlin Climate and Security Conference aims to find answers to these problems. SDC Director General Patricia Danzi explains why climate and security cannot be considered in isolation and how Switzerland intends to raise the issue in the UN Security Council.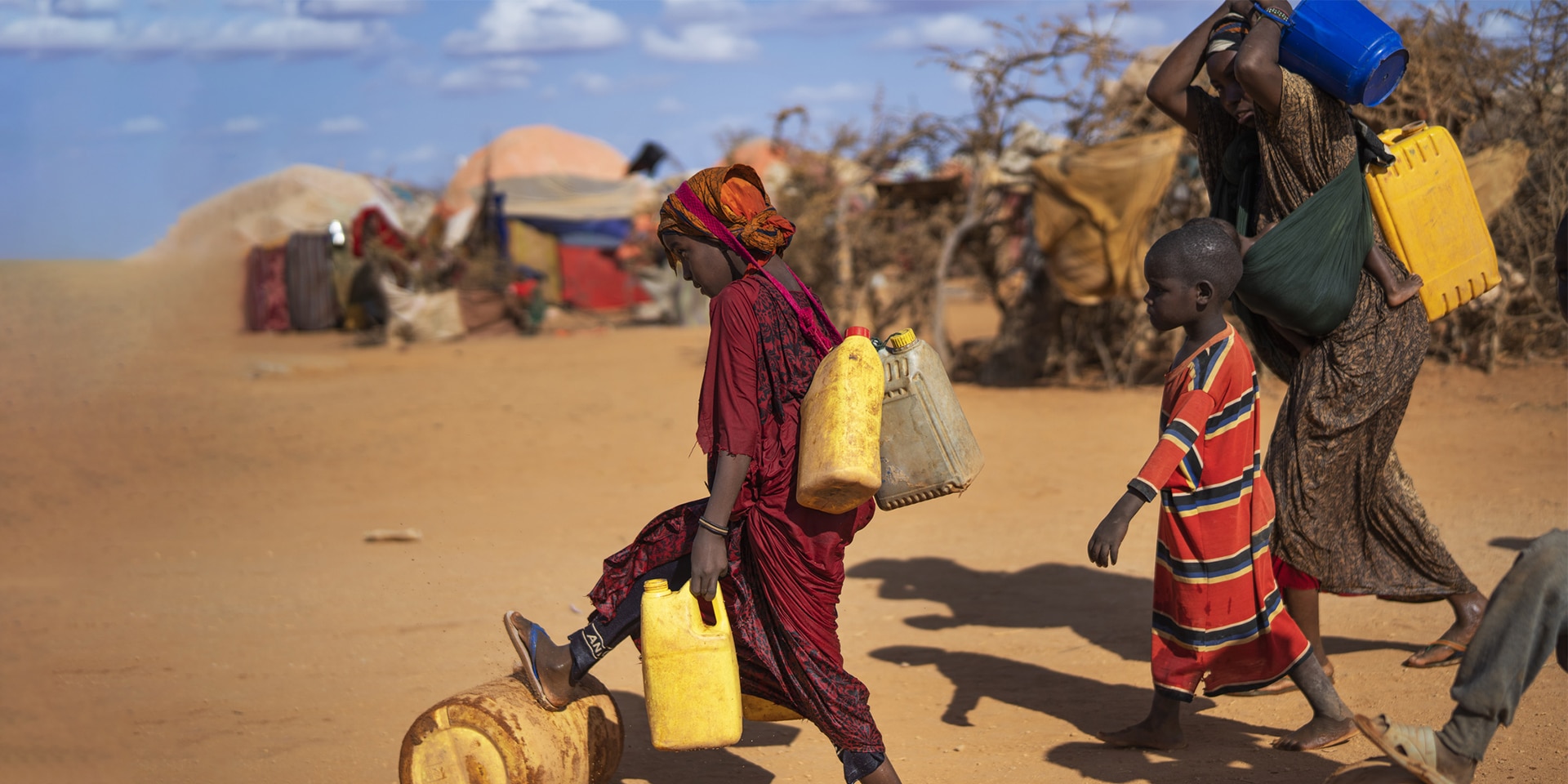 Somalia is a striking example of the close connection between climate and security. The struggle for resources is one of the key triggers for armed conflicts. © Keystone
Droughts, floods, rising sea levels and other effects of climate change are threatening peace and international security. Livelihoods are being destroyed, people are being displaced, and competition for natural resources is intensifying. Climate change is a threat multiplier that hits the most vulnerable sections of society the hardest. "When climate change collides with social, political and economic tensions and existing vulnerabilities, it threatens the security of the affected countries. But it also undermines long-standing endeavours in the fields of humanitarian work, peacebuilding and development," explains SDC Deputy Director General Patricia Danzi, who is representing Switzerland as state secretary at the climate conference.
The struggle for food and water is intensifying
The data is clear: most of the people hardest hit by climate change live in regions affected by war or conflict. One example of this is Somalia. The famine in the country is drawing media attention, but it is also in the grip of a years-long war. "There are numerous regions that humanitarian actors can't reach because they are controlled by the al-Shabaab militant group, which restricts access to people in need of help.  Meanwhile the war continues, and many people are dying because humanitarian aid can't reach them," Ms Danzi explains. Afghanistan provides another example: "The return to power of the Taliban in August 2021 led to a major crisis in Afghanistan. The population has suffered terribly over the past fourteen months, not least because the country has been experiencing a major drought for some time and the impact of climate change is palpable."
A Swiss priority in the UN Security Council
Water is a precious commodity – and a potential source of conflict. Switzerland, too, is aware of this. "As a country that must set its water policy in cooperation with its neighbours, we understand how important this issue is and know how to avoid conflict when tackling it," Ms Danzi explains. Switzerland is passing on this experience at the international level under the Blue Peace initiative, and is also working on climate and security at the multilateral level.

Climate security is also one of Switzerland's priorities for its term on the UN Security Council in 2023–24. In this regard, Switzerland will primarily consider the impact of climate change on security policy, focusing on:
Protection of the civilian population
Improving food security
Promoting sustainable peace
"Switzerland has the expertise to tackle these issues holistically, adopting an apolitical approach that puts people front and centre," says Danzi. As well as passing on its expertise, Switzerland will also use its international cooperation to strengthen the resilience of global populations to climate-related threats – especially in fragile contexts.