«Switzerland's lasting legacy in the field of disaster risk reduction»
Hurricane Mitch caused widespread devastation across Central America in 1998. Without a functioning DRR system, Nicaragua was left completely vulnerable to the destructive forces of nature. Today, 25 years later, the country has a robust DRR system, thanks to Switzerland's long-term contribution. Christoph Graf, who coordinated the SDC's emergency relief activities as the head of the Swiss cooperation office in Managua during the disaster, returns 25 years later to share his insights.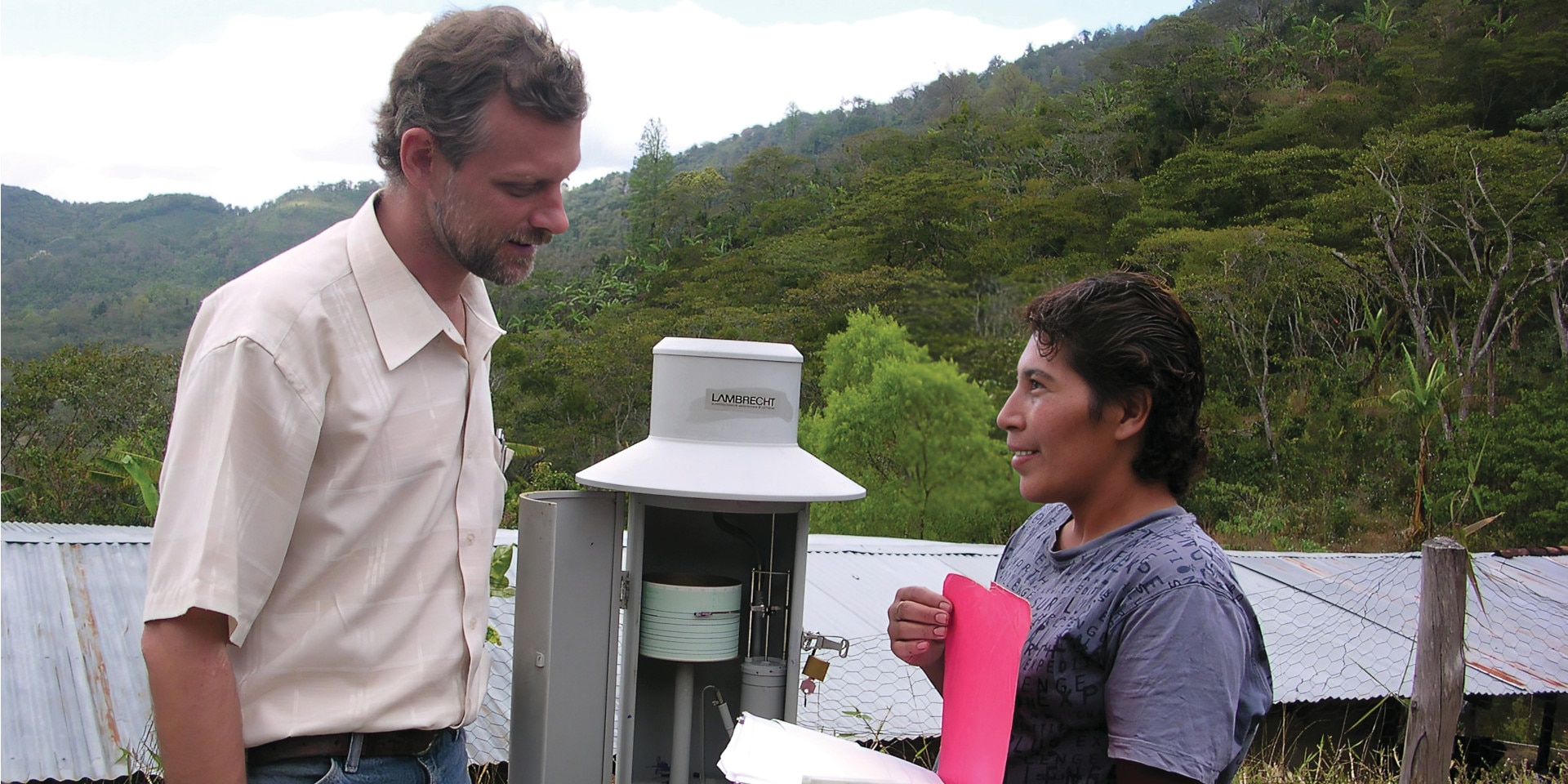 Swiss specialist talking with the local manager of a climate monitoring station in Dipilto, Nicaragua. © SDC
Twenty-five years ago, in 1998, Hurricane Mitch swept through Central America. Over 10,000 people were killed in mudslides and floods. Honduras and Nicaragua bore the brunt of the hurricane's fury, suffering economic losses amounting to USD 7 billion.
Christoph Graf, who served as the head of the Swiss cooperation office in Managua from 1998 to 2000, coordinated the SDC's emergency and humanitarian aid activities. Today, 25 years later, he is back in Nicaragua as an adviser to assist the SDC in phasing out its Central America programme.
In this interview, he reflects on the early years of the programme and the progress Nicaragua has made in DRR since then. 
Christoph Graf, Hurricane Mitch wreaked havoc in Nicaragua. What are your most vivid memories?
Of the many countries I worked in and disasters I witnessed during my more than 30 years with the FDFA, Mitch was one of the most dramatic – nature at its most ferocious. It got under my skin. Many families lost everything and were forced to live in makeshift shelters by the roadside. Newly built highways and bridges had been destroyed overnight. International aid poured in, including CHF 3 million released in the immediate aftermath by Switzerland. The entire cooperation programme team had to quickly shift gears to emergency response mode. The project leaders took on a whole new set of tasks, such as procuring and distributing chlorine tablets to ensure safe drinking water, and organising tarpaulins to be used for tents. It was quite chaotic at first. Ten days later, the second disaster struck: continuous heavy rainfall caused by Hurricane Mitch led to the collapse of the Casitas volcano crater in Nicaragua, resulting in a massive landslide and mudflow that killed approximately 1,500 people.
Switzerland has a great deal of experience and globally recognised expertise in the field of DRR.  In what ways did it contribute to Nicaragua's reconstruction and DRR?
Switzerland set up a reconstruction programme for the period 1999-2001. The first priority was to restore the water supply. The second was to build simple, modular dwellings and schools using local materials – located in safer, less earthquake-prone areas, away from the coast and volcanoes. From the outset, our focus was on DRR. Switzerland had already been working on a DRR development programme before Hurricane Mitch. Setting up an early warning system had been an ongoing project since a tsunami struck Nicaragua's Pacific coast in 1992.
Did Switzerland put in place any DRR measures other than early warning systems?
Switzerland also invested in educating the local population: 24 universities in the six Central American countries now incorporate DDR in their curricula. The establishment of these programmes, which was a collaborative effort involving Swiss universities, took years to accomplish. Local authorities received practical training in DRR. For example, to improve disaster preparedness , the Swiss cooperation office conducted school evacuation drills.
Switzerland also made significant contributions by creating risk and hazard maps, initially in Nicaragua and later expanding these efforts to other Central American countries such as Honduras and El Salvador.
The SDC is withdrawing from Central America and will phase out its programmes starting in 2024. What is its lasting legacy in terms of DRR?
Over the past 25 years, Switzerland has invested over CHF 40 million of taxpayers' money in 70 projects in six Central American countries. I can confidently say that the results have been sustainable and the region has been very significantly transformed for the better. Hurricanes Eta and Jota in 2020, which were comparable in strength to Mitch, are a testament to this. Effective DRR measures led to a significantly lower death toll of just over 100 lives, compared to the 10,000 claimed by Mitch.Nicaragua managed its emergency response largely independently, requiring considerably less international assistance. This was achieved partly through better, decentralised organisation and partly because the residents of some settlements were relocated to areas that were less vulnerable to disasters. 
Did Switzerland's efforts also contribute to improving the DRR system?
Switzerland's contribution to strengthening the DRR system, particularly in Nicaragua, has indeed led to sustainable improvements. One of the most important advances is the improved cooperation between Central American countries in the field of DRR. These countries now actively support each other, as evidenced by their participation in joint regional exercises.
Switzerland has actively contributed to changes in policies and standards, such as building codes, in collaboration with local organisations, authorities, and universities.
The country has been at the forefront of DRR from the beginning, providing not only financial support but also practical assistance through its extensive technical expertise
For the people of Central America, Hurricane Mitch marked a turning point, as they recognised the destructive potential of nature and the importance of taking precautions.
Thanks to the advancements in the DRR system, a storm of the magnitude of Hurricane Mitch would not wreak the same level of havoc today.
Despite the current political challenges in Nicaragua, it's noteworthy that living conditions have significantly improved over the past 25 years. This improvement is evident in the increased life expectancy of its citizens. The country has made major strides forward in various sectors, including substantial improvements in water and healthcare services, upgraded road infrastructure, and notable progress in the agricultural sector.
Mitch+25 international conference
In commemoration of the 25th anniversary of Hurricane Mitch, an international conference is being organised by CEPREDENAC, the DRR body of the regional intergovernmental organisation for Central American integration, SICA, in collaboration with COPECO, the Honduran DRR authority. The conference, titled 'Towards Earlier Local and Integrated Action', will take place in San Pedro Sula, Honduras, from 31 October to 2 November 2023. The SDC will actively participate in this event, contributing insights based on Swiss experiences in the field of DRR.  

A region better prepared for and more resilient to disasters
After more than 45 years of continuous presence in Central America, the Swiss Agency for Development and Cooperation (SDC) is ending its bilateral cooperation with the region. As part of the exit programme, we capitalize on the particular experience of the Disaster Risk Reduction (DRR) Programme, implemented from 1999 to 2024, initially in Honduras and Nicaragua, and subsequently throughout the whole Central American region. The objective of this capitalization is to identify, analyse and share with other stakeholders the main lessons and good practices of the nearly 70 projects the Programme implemented.