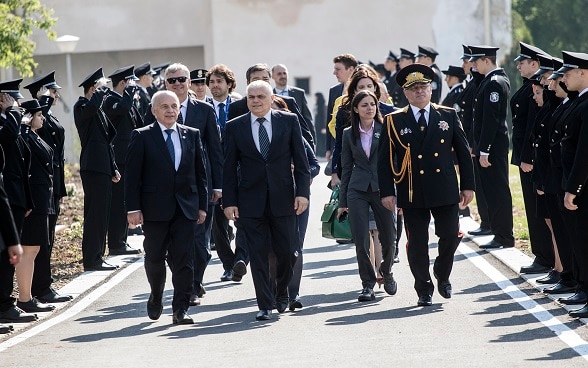 In response to hundreds of complaints about police abuses, as reflected in the statistics of the courts and administrative bodies, the Ministry for the Interior is implementing initiatives to improve Bulgarian policing. Bulgaria is implementing an ambitious restructuring programme to meet higher European standards, enhance the country's law enforcement capabilities and provide better police training.
Contradiction at the heart of policing
While the police are responsible for safeguarding human rights, they are also at risk of violating human rights in certain situations. This poses a particular challenge in providing targeted human rights education to police forces. Police may violate human rights in the course of law enforcement by attacking the physical integrity of individuals without due cause and engaging in racist or discriminatory behaviour. Only a small proportion of human rights offences are prosecuted. The vast majority of violations occur off the record or cannot be investigated for lack of evidence. Human rights education plays a crucial role in remedying and preventing police misconduct. According to specialists in the field, human rights training will only be effective if it addresses the realities of policing.
Human rights training that produces the desired impact on behaviour
The aim of the project, which is supported by Switzerland as part of its contribution to the enlarged EU, is to provide practical training that emphasises a new approach to policing. This has involved promoting human rights-based policing at both regional and national level. The Savatan Police Academy in the canton of Vaud has brought Swiss expertise to the project by teaching Bulgarian trainers the latest methods for combating organised crime and ensuring that human rights are upheld. A new training manual entitled 'Police and Human Rights' has been compiled and disseminated. Professional standards for human rights-based policing, based on this manual, are now fully integrated into the courses delivered by the Bulgarian police academy, and the new curriculum has already been introduced for this academic year.
Modern, simulation-based training infrastructure geared to policing in practice
Training facilities capable of delivering simulation-based training have also been constructed with a view to increasing training capacity. These facilities support practical training for new recruits and more senior police officers by providing the necessary IT back-up and technical equipment. At the 'Polygon' training centre in Sofia, for example, police officers can prepare for situations that they might typically encounter in day-to-day policing. Federal Councillor Ueli Maurer and Bulgarian Minister for the Interior Valentin Radev formally opened the 'Polygon' training centre at the national policy academy in Sofia in 2018.
Thematic funds: security
The project comes under funding allocated to the area of security in Bulgaria. The fund was established to address Schengen-related issues, help improve security and prevent corruption and organised crime. The fund supports projects with budgets ranging from CHF 100,000 to 1,500,000. It also supports partnerships with relevant Swiss organisations, facilitating the delivery of Swiss expertise and knowledge-sharing. The relevant projects promote better legal practice and improve the structure and administration of the judiciary, police force and other investigative authorities and cooperation between these agencies.
«Strengthening human rights-based policing in Bulgaria» is one of 32 projects designed to help reduce economic and social disparities in Bulgaria. An overview of results attained in Bulgaria up to the end of 2018 has been published on the country page.