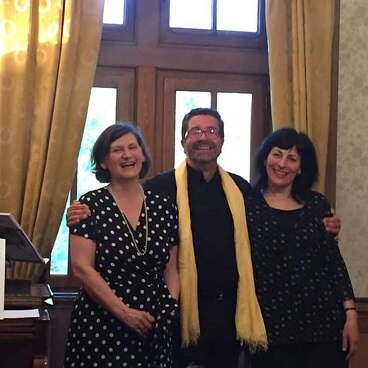 11.03.2020
*** CANCELLATION *** ANNULATION ***
The ARTos Foundation, has announced the cancellation of all scheduled events until further notice. That includes the performance «Toâ et Moâ» on Saturday, 14 March at 20.30h, an event supported by the Embassy of Switzerland in the frame of the Francophonie programme. The organiser intends to act in full compliance with the Cyprus Council of Ministers' decision on emergency measures to prevent the spread of coronavirus COVID-19.
La Fondation ARTos a annoncé l'annulation de toutes les manifestations prévues jusqu'à nouvel avis. Cela inclut le spectacle , «Toâ et Moâ» du samedi, 14 mars à 20h30, un événement soutenu par l'Ambassade de Suisse dans le cadre du programme de la Francophonie. L'organisateur entend agir en plein respect de la décision du Conseil des Ministres de la République de Chypre relative à des mesures d'urgence pour prévenir la dissémination du coronavirus COVID-19.
**********************
The Embassy of Switzerland has the pleasure to announce the return of  Sergio Belluz to Cyprus and invites you to his comedy and musical performance:
 
«Toâ et Moâ» (You and Me)

with Swiss artists Brigitte Balleys (mezzo-soprano), Sergio Belluz (baritone) and Marcia Dipold (piano).

Saturday, 14 March 2020 at 20.30h
ARTos Foundation, Nicosia 
Language: French with English surtitles 
Duration: 75 minutes
Free admission
They're in love; they chatter and to add to it, they sing! A performance which swings between a stand-up comedy and a recital, drawing from more than a hundred years of classical francophone repertoire, where a couple of egocentrics are staged, bickering between two arias, over the ups and downs of married life. Music: Henri Christiné, Arthur Honegger, Jacques Offenbach and many other composers.
 
Full programme of the Francophonie 2020 events available on: Institut Français de Chypre
***********
 
L'Ambassade de Suisse a le plaisir d'annoncer le retour à Chypre de Sergio Belluz et vous invite à son spectacle comique et musical :
«Toâ et Moâ»
avec les artistes suisses Brigitte Balleys (mezzosoprano), Sergio Belluz (baryton) et Marcia Dipold (piano).
samedi 14 mars 2020 à 20h30
ARTos Foundation, Nicosie   
Ils s'aiment. Ils causent. Et en plus ils chantent ! Entre stand-up et récital, un spectacle qui puise dans plus de 100 ans de répertoire classique francophone pour mettre en scène les amours d'un couple d'égocentriques qui, entre deux airs, évoquent les hauts et les bas de leur vie de couple. Musique: Henri Christiné, Arthur Honegger, Jacques Offenbach et bien d'autres.
Langue : en français, surtitres en anglais 
Durée : 75 minutes
Entrée libre
Programme complet des événements de la Francophonie 2020 : Institut Français de Chypre