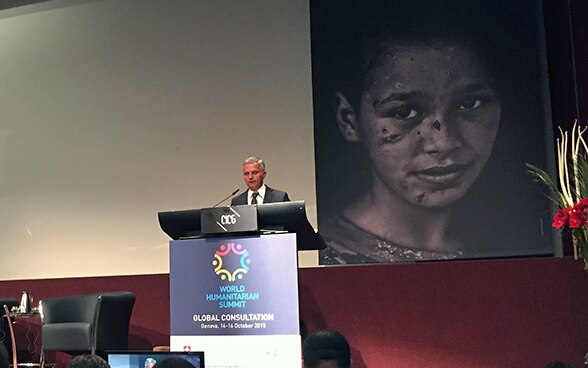 The items on the agenda for the Global Consultation concern not only the dignity and security of those affected by crises, but also partnerships between the various humanitarian actors and funding for international aid. "The World Humanitarian Summit is an opportunity to reaffirm humanitarian values and to take real action to help those in need. It is a chance to save even more lives, and to better prevent and reduce suffering", Mr Burkhalter stressed.
In his address on 15 October, Federal Councillor Burkhalter also criticised the fact that "humanitarian organisations are often prevented from reaching populations in need, or obstructed by the parties to a conflict". Speaking in front of representatives of government, international humanitarian organisations and civil society, he also called for greater respect for international humanitarian law. "There is no international forum to discuss these issues", Mr Burkhalter pointed out, making the case for "the establishment of a regular government-level conference on international humanitarian law. We could take such a step next December, at the next International Conference of the Red Cross and Red Crescent in Geneva".
Switzerland's priorities within this process are to strengthen humanitarian principles, protect civilians in armed conflict, the need to centre humanitarian action around those who are affected, gender equality and crisis prevention. These rank alongside respect for international humanitarian law, human rights and the rights of refugees. 
Co-Chair of the Global Consultation, Manuel Bessler, Federal Council delegate for Swiss humanitarian aid, emphasised the importance of Geneva as the host city for this event, as it already boasts a high concentration of representatives of the humanitarian sector. Their expertise and experience will be called upon to analyse and discuss the outcomes of the foregoing discussions, he said.
Switzerland has increased its humanitarian aid budget for 2015 to CHF 490 million, up from CHF 380 million in 2013. Ahead of the coming winter, the Federal Council decided in September to allocate a further CHF 30 million to the Syria and Iraq crises up to the end of 2015. A further CHF 19 million has also been allocated to the Horn of Africa.
Additional indications:
Article « International community meets in Geneva to set course for future humanitarian action », published on 13.10.2015
Address by Federal Councillor Didier Burkhalter (fr/en)
Address for enquiries:
Information FDFA
Bundeshaus West
CH-3003 Bern
Tel.: +41 58 462 31 53
Fax: +41 58 464 90 47
E-Mail: info@eda.admin.ch
Publisher:
Federal Department of Foreign Affairs
Internet:
http://www.eda.admin.ch/eda/en/home/recent/media.html