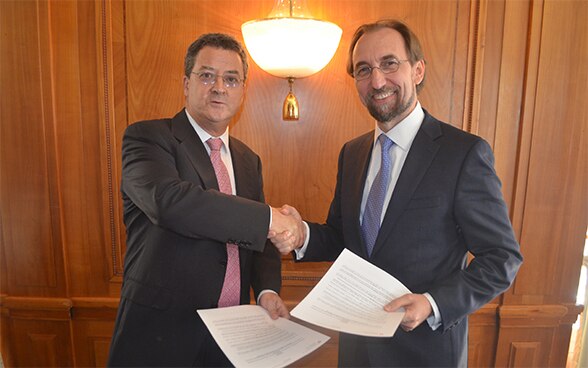 Respect for human rights contributes to international security, peace and sustainable development. The Office of the United Nations High Commissioner for Human Rights (OHCHR) is an important partner in Switzerland's commitment to human rights. Switzerland is the host state of the OHCHR and also one of its principal donors, contributing almost CHF 3 million in 2014.
Focus on the human rights of migrants
President of the Swiss Confederation Simonetta Sommaruga welcomed the UN High Commissioner for Human Rights for talks in the afternoon. She expressed her satisfaction that Switzerland has been able to increase its commitment to the OHCHR in recent years, specifically with regard to work to protect the human rights of migrants. President Sommaruga also hailed the positive working relationship between Switzerland and the OHCHR, and emphasised the importance of keeping migration and human rights at the top of the OHCHR's agenda.
The discussion centred on current migrant flows. Ms Sommaruga and Mr Al Hussein both agreed that the situation in the Mediterranean demands coordinated action in which the protection of human life must be the number one priority.
They also spoke about the alarming human rights situation in a range of crisis-affected states and asylum-seekers' countries of origin, such as Eritrea. President Sommaruga underscored Switzerland's concern about the gross violations of human rights in these states, and the lack of any improvement in recent years.
Swiss contribution to new Honduras office
The UN High Commissioner for Human Rights had previously met FDFA State Secretary Yves Rossier at midday. Their talks included an exchange on the human rights situation in countries in which Switzerland and the OHCHR have a common interest, especially states in, or emerging from, crisis. Switzerland also reaffirmed its political and financial support for the OHCHR, as well as its desire to strengthen cooperation to provide more effective protection against violations of human rights and fundamental freedoms.
Switzerland's contribution to the new OHCHR office in Honduras was also formalised during the meeting between Mr Rossier and Mr Al Hussein. This CHF 2.1 million in funding for 2015-2017 further strengthens Switzerland's engagement in human rights in Honduras, the key thrusts of which are reinforcing the judicial system and combating impunity, protecting human rights defenders, and codifying international legal norms into national law.
During his visit, Mr Al Hussein also met with the Chairman of the Foreign Affairs Committee of the Council of States, Felix Gutzwiller, and the Deputy Chairman of the Foreign Affairs Committee of the National Council, Roland Büchel. At this meeting, they reviewed the challenges currently facing the OHCHR and human rights protection around the world, and discussed human rights situations of particular concern.
Address for enquiries:
FDJP Information, T +41 58 462 18 18
FDFA Information, T +41 58 462 31 53
Publisher:
Federal Departement of Justice and Police
Federal Department of Foreign Affairs