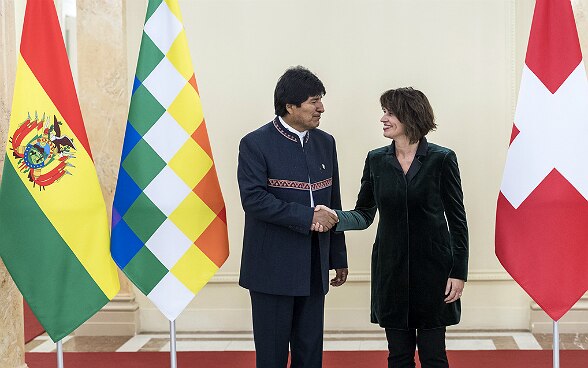 The planned South American transcontinental railway will run from Brazil through Bolivia to Peru, connecting the Atlantic and Pacific Oceans. The ambitious project, which is expected to extend over 3,750 kilometres, has also been dubbed the 'Panama Canal of the railways'. Switzerland and Bolivia agreed to expand their cooperation with regard to the bi-oceanic rail corridor construction project. Both sides stressed the positive expectations associated with the project. Ms Leuthard spoke of Switzerland's longstanding experience in the field of rail infrastructure and hailed the signing of a declaration of intent as a decisive step in cooperation with Bolivia.
Bilateral economic relations are currently rather modest, although the potential for bilateral trade and investment is growing. Ms Leuthard commended the successes of the Bolivian government in tackling poverty. She stressed the value of democratic principles and the rule of law for the country's continued development. She also emphasised the importance that Switzerland attaches to open markets.
Discussions also addressed the partnership that has existed for several decades between Switzerland and Bolivia and its people. The Swiss Development and Cooperation Agency (SDC) has been active in the country for almost fifty years and works in the fields of governance, economic development, climate change and the environment. Further topics include integral water management and vocational education and training. Switzerland is also supporting Bolivia with its justice reforms, which aim to improve access to the justice system for poorer sections of the population.
---
Further information:
Bilateral relations Switzerland–Bolivia
Development cooperation and humanitarian aid

---
Address for enquiries:
Annetta Bundi, DETEC Press and Information Service
+41 (0)78 646 38 80,
info@gs-uvek.admin.ch
---
Publisher:
Federal Department of the Environment, Transport, Energy and Communications