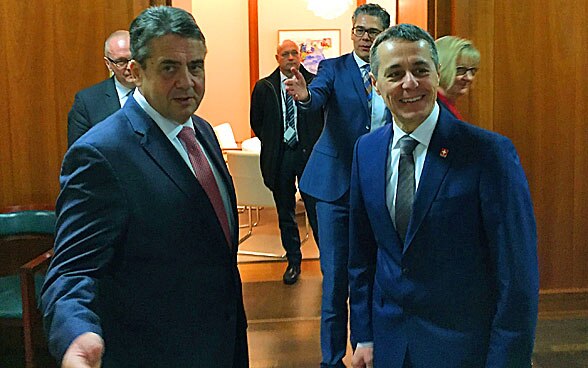 Having already met the heads of diplomacy of Switzerland's other neighbouring countries, the head of the Federal Department of Foreign Affairs (FDFA) will visit the German foreign minister in Berlin. Fostering good relations with Switzerland's neighbouring countries and regions is one of Mr Cassis' priorities.

Germany is a very important partner for Switzerland. This can be seen for instance in the volume of bilateral trade, which reached approximately CHF 94 billion in 2016, making Germany its largest economic partner. One of the objectives of the visit is to highlight the excellent relations between the two countries and the close collaboration between Bern and Berlin in numerous areas.

In addition to bilateral relations, Mr Cassis and Mr Gabriel will discuss European policy and various current international issues.
---
Further information:
Bilateral relations between Switzerland and Germany

---
Address for enquiries:
Information FDFA
Bundeshaus West
CH-3003 Bern
Tel.: +41 58 462 31 53
Fax: +41 58 464 90 47
E-Mail: info@eda.admin.ch
---
Publisher: