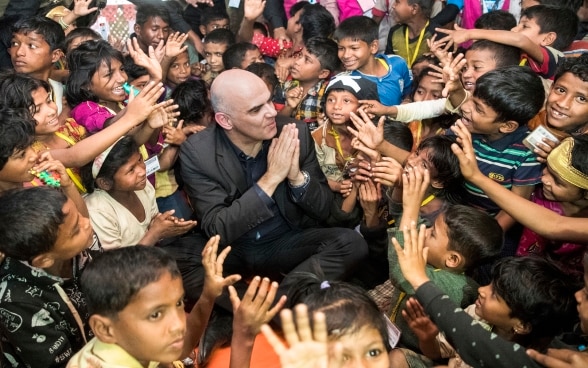 Switzerland has increased its humanitarian commitment to Bangladesh. During his visit President Berset announced an additional CHF 12 million in financial assistance. Switzerland's aid last year amounted to CHF 8 million. Bangladesh is one of the world's most densely populated countries and is currently sheltering over 900,000 refugees; of those, around 655,000 are from the Rohingya community who have recently fled to Bangladesh from Myanmar.
During a visit to a refugee camp in the district of Cox's Bazar, Mr Berset commended the solidarity of the people of Bangladesh with the refugees and the work of the authorities in responding to the crisis. He said it was essential to find a political solution to the crisis at international level. At a ceremony in Cox's Bazar he officially presented the district hospital with 100 beds and diagnostic equipment financed by Switzerland.
 
At the official talks with President Md. Abdul Hamid, Prime Minister Sheikh Hasina and members of her cabinet on Monday, 5 February, both sides stressed the potential for closer bilateral relations between Switzerland and Bangladesh, the world's eighth most populous country. The joint declaration that was signed during the presidential visit, underscores the commitment to democratic values and the interest in closer exchanges.
Growing economic potential
Bangladesh aims to become a middle-income economy by 2021. The volume of bilateral trade with Switzerland has more than doubled since 2010, thanks in particular to a greater volume of textile imports. Mr Berset was impressed by the country's economic development, in particular commending efforts towards greater legal certainty. The programme also included talks with representatives from Swiss and Bangladeshi businesses.
Mr Berset also underlined the support for disadvantaged and marginalised population groups in the country. Bangladesh is a priority country in Switzerland's development cooperation programme. The 2018–2021 cooperation strategy takes into account the country's growing economic potential and emphasises issues such as governance, human rights, migration and employment.
In addition to the Rohingya crisis and bilateral relations, talks also covered cooperation at international level. With regard to climate change both sides stressed the importance of establishing clear rules for the implementation of the Paris Agreement by the end of 2018. Further topics included efforts to tackle violent extremism, work within the UN and the sustainable development goals set out under the 2030 Agenda.
President Berset rounded off his stay in Bangladesh by visiting the Dhaka Art Summit, a cultural event supported by Pro Helvetia. The next stop on the journey is South Korea where he will meet President MOON Jae-in on Thursday. He will also meet with health and social affairs minister, PARK Neung-hoo, at the closing event of the Swiss-Korean Innovation Week. On Friday, 9 February, he will attend the opening ceremony of the XXIII Olympic Winter Games in Pyeongchang.
---
Further information:
Bilateral relations Switzerland–Bangladesh
Bangladesh

---
Address for enquiries:
Nicole Lamon, Head, FDHA Communications
nicole.lamon@gs-edi.admin.ch
or FDHA Communications: +41 58 467 40 66
---
Publisher:
Federal Department of Home Affairs
Federal Department of Foreign Affairs