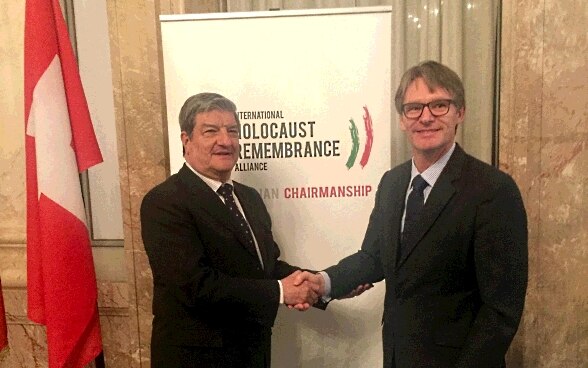 Switzerland handed over the chairmanship of the IHRA to Italy in a ceremony at the Italian embassy in Berlin. Benno Bättig, IHRA Chair since 8 March 2017, presented to the incoming Italian chairman, Ambassador Sandro de Bernardin, the Italian translation of the final volume of the Memoirs of Holocaust Survivors, a project actively supported by Switzerland in the run-up to and during its chairmanship. The project exemplifies Switzerland's commitment and embodies the goals of the IHRA: maintaining the memory of the Holocaust and bringing its horrors to the attention of younger generations so that they can develop an awareness of what racism, anti-Semitism and discrimination can lead to.
Accordingly, Switzerland set education, youth and social media as priorities for its chairmanship. In the course of the year Switzerland and its representations abroad initiated various projects in the field of Holocaust education. These included the translation of the Memoirs of Holocaust Survivors into French and the final volume into Italian, a publication on the rescue operation by Carl Lutz and his team in Budapest during the last years of the war, and the development of a web app to introduce young people to the Holocaust through the interactive possibilities offered by new media, both in the context of school lessons and for private use.
During the Swiss chairmanship the IHRA also debated and adopted its first strategy paper on 'Vision, Mission, Aims and Objectives' at plenary sessions in Geneva and Bern, setting out the concrete priorities for its work over the next five years. "2017 has been a decisive and challenging year for the IHRA," said Mr Bättig at the handover ceremony today, expressing his appreciation for the IHRA's delegates and secretariat, thanks to whose commitment the IHRA was able to carry out these important strategic steps.
The IHRA currently comprises 31 member states. Under the Swiss chairmanship, Bulgaria and Australia also took important steps towards becoming full members in the near future. The IHRA's institutional partners include the UN, the Council of Europe, the OSCE's Office for Democratic Institutions and Human Rights, and UNESCO. Switzerland has been a member of the IHRA since 2004, joining during the first Italian chairmanship.
---
Further information:
Switzerland's chairmanship of the International Holocaust Remembrance Alliance in 2017

---
Address for enquiries:
Information FDFA
Bundeshaus West
CH-3003 Bern
Tel.: +41 58 462 31 53
Fax: +41 58 464 90 47
E-Mail: info@eda.admin.ch
---
Publisher: