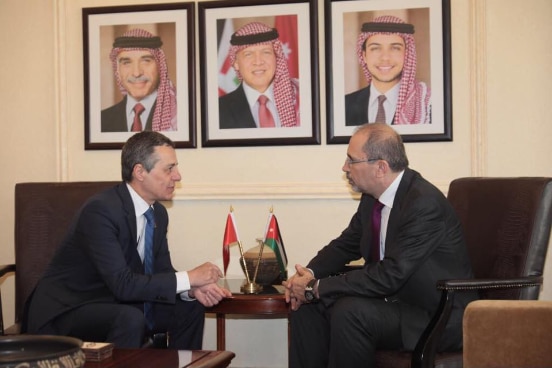 During their meeting, the two Ministers reviewed bilateral relations and discussed issues of common interest. The Swiss Minister expressed at this occasion his appreciation for Jordan's contribution in welcoming Syrian refugees fleeing war and acknowledged Jordan's commitment to address the many challenges the Kingdom is facing related to water scarcity.
In the evening of Sunday 13th May, Swiss Minister Cassis inaugurated the new Swiss Embassy building in Abdoun in presence of 200 distinguished guests.
On the second day of his visit to Jordan, Federal Councillor Ignazio Cassis paid a visit to the UNRWA Vocational Training Center in Wadi Seer which provides vocational and technical training. He participated in a short tour around the center and met with students who are learning culinary, architecture and carpentry skills. During the visit, he also interacted with members of the UNRWA school parliament and learned about their hopes and challenges.
He then visited the historical and archaeological city of Petra in southern Jordan. The archaeological research in this site is supported by Swiss scientists.
Switzerland supported Jordan within its international cooperation program with approximately 15,7 million Jordanian Dinars in 2017.
For more information
Mr. Terence Billeter
Deputy Head of Mission
Embassy of Switzerland
Hashemite Kingdom of Jordan
Phone: +962-6-593 14 16