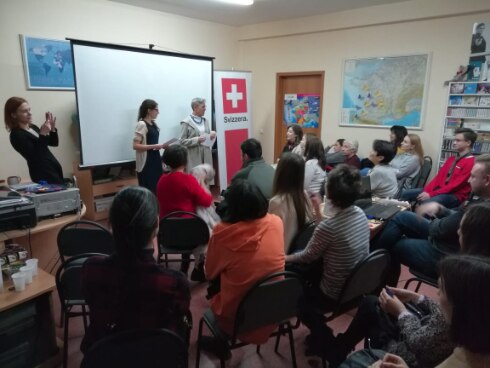 Italian is one of the four national languages of Switzerland. More than 8% of the Swiss population speaks this beautiful language as a mother tongue. It is therefore both a duty and a great pleasure for Switzerland to join the efforts of the Accademia della Crusca and the Ministero degli Affari Esteri e della Cooperazione Internazionale (MAECI) in upholding the world over the Italian language, as well as the culture that is colorfully mirrored in the latter. 
This year, in the framework of the XIX edizione della settimana della lingua italiana nel mondo, the Embassy of Switzerland in Kazakhstan went to the city of Karaganda—one of the few places where Italian is particularly present in this country—to show a movie of the Swiss film director Niccolò Castelli. 
After the Consul and Deputy Head of Mission, Christa Felder, welcomed the guests to the evening, the movie was projected with Russian subtitles. It portrays the essentially different and yet interconnected lives, fears and dreams of three young adults in the city of Lugano, which is situated in the Italian-speaking part of Switzerland. The story appealed to the predominantly young public who stayed on for a lively session of comments and questions after the film.