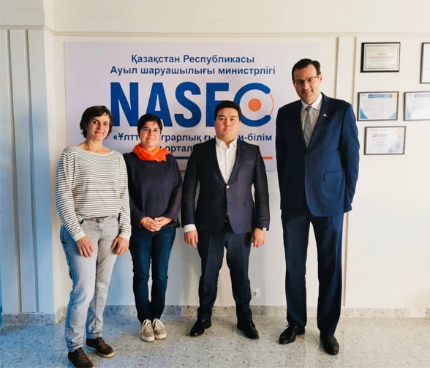 The Ambassador highlighted the dynamism of bilateral relations and the many agreements that have been signed in 2021. He also pointed out that many Swiss companies are active in Kazakhstan in the agricultural and processing sector. In this context, the visit of President Kassym-Jomart Tokayev to Geneva in November 2021 gave impetus to this collaboration.

Various projects initiated by private Swiss companies were launched in 2022 and the intensive work of the authorities of each country allowed to make major advances in the field of veterinary certificates.

Ambassador Grichting was pleased to learn that NASEC and the Swiss company SUISAG are developing the cooperation in the field of agricultural education and conveyed his best wishes for success to both organizations. The Ambassador also emphasized the quality of Swiss research and teaching establishments in the agronomic and veterinary fields.