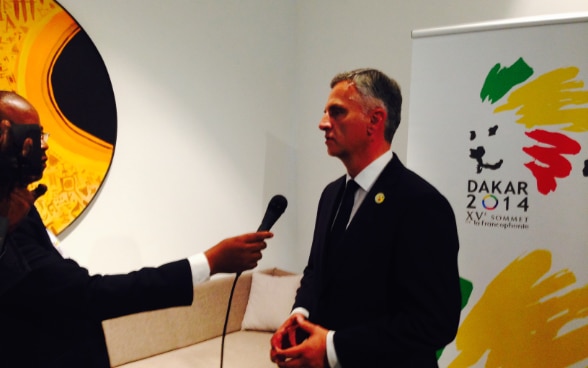 According to United Nations forecasts, the number of French speakers worldwide is set to exceed 700 million by 2050. 85% of them will live in Africa, where under-25s make up the majority of the population. Francophone culture therefore has a bright future thanks to one vital commodity: its youth.

At the Dakar Summit on 29 and 30 November 2014, Switzerland will commit to La Francophonie's youth strategy, which seeks to support young people through educational initiatives in particular, and also to empower young French speakers to become active citizens who play their part in addressing global challenges.

Switzerland is particularly committed to promoting vocational education and training in French-speaking countries and to supporting high-quality basic education adapted to people's ways of life, in both French and their mother tongue, enabling young people to acquire the skills they need to help them enter the labour market. It does this through the programmes of the FDFA's Swiss Agency for Development and Cooperation (SDC).

Switzerland also supports higher education, in particular through the online academic courses (CMELL) established by the Swiss Federal Institute of Technology Lausanne (EPFL) with support from the Confederation (FDFA/SDC). These courses allow students to learn online, even if they live far from any university, and to specialise in urban-planning, water, nutrition, energy and health-care technologies. All of these areas will be crucial for sustainable development, particularly on the African continent. At the Dakar Summit, a partnership will be established between EPFL and the Agence universitaire de la Francophonie (AUF) for the certification of these courses. Switzerland has proposed a specific resolution on education in the digital age.

Also at Dakar, La Francophonie intends to continue its commitment to gender equality and the mainstreaming of women and girls and their health. This will be the subject of a specific resolution, in line with Switzerland's concerns. A resolution will also be adopted to strengthen the fight against the Ebola virus. Switzerland recently decided to triple its aid for combating the Ebola epidemic in West Africa. Among other things, it will commit around CHF 7 million to Guinea, a French-speaking country affected by the virus.

At the Dakar Summit, Switzerland will also continue to advocate good governance rules and to promote democracy, human rights and fundamental freedoms. In addition, it will support La Francophonie's involvement in the field of education.

These priorities will be set out in the "Dakar Declaration" and the "La Francophonie Strategic Framework 2015-2022", which will be adopted by the heads of state. Finally, the Dakar Summit will appoint a new secretary general of La Francophonie for a four-year term.

Within La Francophonie, Switzerland will also continue to oppose the death penalty and to promote the voluntary principles on human rights for extractive companies and better protection of children associated with armed forces.

At the Francophonie Village open to all in central Dakar, Switzerland will showcase its activities, particularly those of the SDC and EPFL on education and vocational training in West African countries, under the banner "Education: innovation for inclusion".
---
Further information:
Switzerland in the International Organisation of La Francophonie (IOF)
La Francophonie Summit

---
Address for enquiries:
Information FDFA
Bundeshaus West
CH-3003 Bern
Tel.: +41 58 462 31 53
Fax: +41 58 464 90 47
E-Mail: info@eda.admin.ch
---
Publisher: