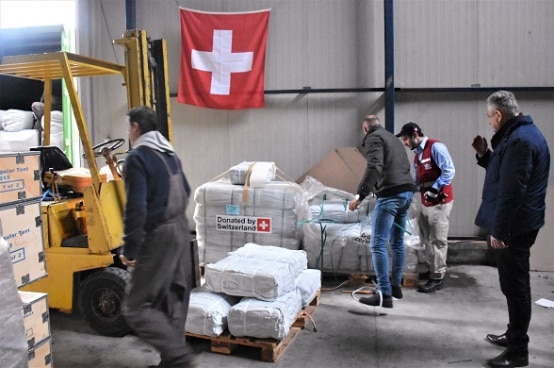 An assessment by the Swiss Humanitarian Aid has revealed that support to the earthquake aftermath in Albania amounts to over 1 million Euro – while a further 450,000 Euros are allocated for reconstructing health centres.
Direct support has benefited 5,200 people with a focus on areas less covered by other donors such as rural areas and poorer segments of the population.
The first three lines of actions included structural engineering inspection, sheltering and a pilot financial support scheme.  
"Swiss support for the earthquake aftermath was fast, efficient and comprehensive", says Swiss Ambassador Adrian Maître. "The team from the Humanitarian Aid in Bern, the Embassy, and our projects have all coordinated and provided the maximum we could to help the people most affected by the devastating earthquake of November 26th. In addition, after a request from the Ministry of Health and Social Protection, we have agreed to add over 450,000 Euros for the reconstruction of several health centres in affected areas", states Ambassador Maître.  
The new phase of support focuses on reconstructing at least 5 health centres in and around Durrës region that suffered serious structural damages by the earthquake and are not considered safe for citizens and staff. Approximately 45,000 people are covered by these 5 centres, who are currently receiving only minimal health care services.
The rapid response team provided winterproof housing for 1'100 people in Kurbin, Mirditë and Shijak. This line of support included 250 winterized family tents, 400 beds, 1'200 blankets and tarpaulin covers.
For families that were severely affected, a pilot financial support scheme is continuing to cover their most urgent needs for repairing houses and dealing with the basic needs.
Further Swiss support will be provided based on the needs assessment to be conducted by the Government of Albania jointly with international partners in January 2020. The Embassy will decide possible adaptations of the Swiss cooperation programme based on the needs assessment and after discussing with the government and its partners.
The Swiss response mission to Albania's earthquake was one of the first to arrive and their contribution was recognized as important by the government.