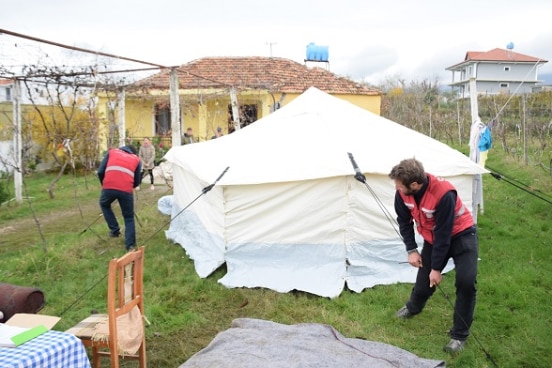 The mission sent by the Swiss government in response to the earthquake in Albania expands its operations reaching out now directly to affected people. The first line of action focuses on checking the stability of buildings through structural engineers. The second line of action is support in sheltering.
"Many people in rural areas have been affected by the earthquake. They have no other place to stay and need to remain close to their livelihoods. Switzerland is providing family tents in these areas so people can set it up in front of their homes", said Sebastian Eugster, team leader of the Swiss humanitarian mission from the Swiss Federal Department of Foreign Affairs.
The first location was Maminas where tents were delivered to local authorities and the team assisted in setting them up. They trained local representatives on how to pitch up the tents
"The Swiss expert team has dispatched the tents and materials in record time and they have clearly instructed local authorities on how to continue assisting the people in need in the next few days. Through an efficient coordination with our Embassy, our projects and local authorities, the Swiss experts are providing much needed relief for many citizens", said Patrik Meier, Deputy Head of the Swiss Embassy in Tirana, who was present in Maminas.
In total the Swiss mission is providing 100 tents with winter sets. The team is delivering 70 tents with 280 beds for rural areas in Kurbin while in Durrës region 30 tents and 130 beds are provided. In addition, blankets and tarpaulin covers are part of the supplies, to ensure that tents offer enough comfort and can withstand harsh weather. For many people who have found refuge in other types of buildings, the Swiss team is providing beds and blankets.
The third line of action is the targeted provision of financial assistance for families affected by the earthquake. This will be done in coordination with the government and municipalities. It will allow most affected households to cope with their most urgent needs. An evaluation of this pilot, quick and need- based approach is planned.
Switzerland has been supporting Albania's development for over 20 years through a broad cooperation programme on many of the country's reforms. This support will continue and possibilities of adapting the programme in response to the earthquake are being discussed.
Assistance in emergencies and disasters comes in addition to the already existing Swiss engagement. As part of the response to the earthquake emergency the Swiss Humanitarian Team and Swiss Embassy are coordinating with central and local authorities, as well as with other donors.