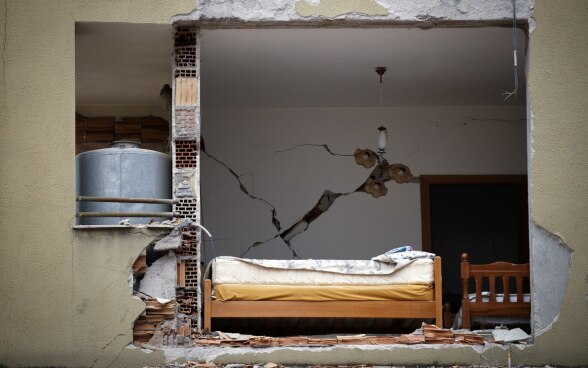 At the conference chaired by President of the European Commission, Ms. Ursula von der Leyen, Switzerland pledged to provide 10.2 million Swiss francs (9.6 million Euro) for reconstruction efforts in Albania following the devastating earthquake of 26 November. Among bilateral grant donors, Switzerland is among the top countries after France, United Arab Emirates, Italy, Turkey, and Germany.
"We are convinced that a coordinated effort by the Albanian Government and the international community can help mitigating the negative effects of this disaster on Albania's path ahead. Today's conference is an important step on this journey", said Ruth Huber, Deputy Director of the Swiss Agency for Development and Cooperation, SDC, part of the Swiss Foreign Ministry. 
International solidarity enabled an overall pledge of 1.15 billion Euros at the Conference. This show of support came after a thorough Post Disaster Needs Assessment conducted by the Albanian government in cooperation with international experts.
"This went beyond my wildest dreams", said Albania's Prime Minister Edi Rama in his speech after the conference.
The Swiss fund comes in the form of grants and it focuses on disaster risk reduction and resilience, including 'building back better'. Swiss expertise will also be ready to offer capacities in these domains.
Switzerland's support in the earthquake aftermath was immediate in three lines of action: structural engineering teams, aid and shelter assistance, and financial support for the most vulnerable. In addition, through its health programme, the Embassy of Switzerland committed 500,000 Swiss francs (nearly 450,000 Euro) to reconstruct 5 health centres in Durrës, Tirana and Kruja.
The earthquake that struck Albania on 26 November 2019 claimed 51 lives, destroyed or damaged thousands of houses and public buildings, and displaced 17,000 people.