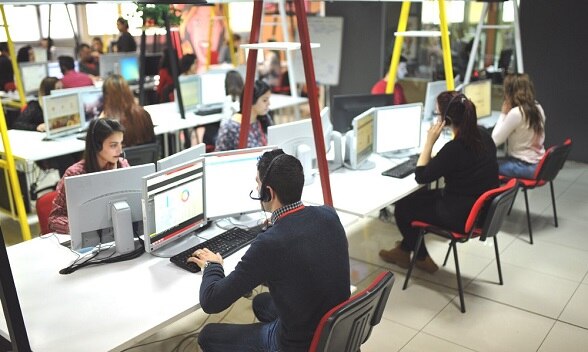 As the COVID-19 crisis hit earlier this year, for many Albanian businesses this meant a major slowdown or shutdown. But not so for WEAREFIBER – a company that offers business process outsourcing services for international clients.
The new crisis for them was both a shock and an opportunity: in mid-March they had to switch to remote working to comply with national physical distancing guidelines. At the same time, some of their clients, such as food delivery platforms based around Europe, have had increased orders under lockdown and have requested additional services from the company.
As a result, WEAREFIBER managed to not only retain all their staff but also hire additional resources between January and May 2020:  they employed 48 young people during this period.
As Eldisa Cirogu, WEAREFIBER's sales manager, says: "Due to our investment in technology, we provide services to higher end markets such as e-commerce. As a result, we have managed in this situation not only to retain our customers but to increase our orders".
The company receives technical support from RisiAlbania - a project of the Swiss Agency for Development and Cooperation (SDC) – through adoption of new technological solutions such as Robotic Process Automation technology that leads to improved customer services. RisiAlbania is also supporting them with internationally certified project management methodologies and market research – which WEAREFIBER is using to enter new markets and sell their upgraded services. These support lines fall within the RisiAlbania strategy to support the Albanian companies that offer outsourcing services in diversifying markets and clients, and in introducing value-added services.
Another secret to their success in this period lies with that much-needed international certification. WEAREFIBER is one of the examples of the benefits of investing in standards for client and service diversification. As Eldisa adds: "We invested in standards and certification early on, which allowed us to confidently invest in technology knowing we would be able to sell our services".